Blundering Theresa Lagaffe?
"A reputation is like virginity – once lost, it's rather difficult to get back". I don't know which genius wrote that. It might even be me?
It was excruciating and somewhat sad watching the Tory conference in Manchester, particularly Saint Theresa's great leader's closing speech. The Tories are probably not hugely liked by most people. But since the disastrous Blair/Brown years, when it comes to elections and choosing the party that will govern most competently, the Tories tend beat Labour with most voters apart from the idiotic, narcissistic, safe-space, we want-to-be-ruled-by-Germany, immigrants-welcome, snowflake generation.
But a reputation is fragile. And like virginity, once lost it's rather difficult to regain.
With May's seemingly endless prevarication over triggering Article 50 to leave the EU, with her bungled and unnecessary election and with her cabinet constantly at each other's throats, the Tories have lost their reputation for competence. And once they've lost that, what have they got to offer voters apart from a few watered-down policies – stuff on student fees, council houses, energy prices etc – all blatantly plagiarised from Comrade Corbyn's resurgent Labour? Perhaps Saint Theresa's hapless offering yesterday was the last straw that will have turned the Tories from the party of competence to a complete laughing stock?
There used to be a French comic-strip character called Gaston Lagaffe. "Gaffe" is, of course the French for "gaffe". Gaston was a gag-a-day comic strip created in 1957 by the Belgian cartoonist Andre Franquin in the Franco-Belgian comics magazine Spirou. The series focuses on the everyday life of Gaston Lagaffe (whose surname means "the blunder"), a lazy and accident-prone office junior. I guess Gaston was a kind of French Mr Bean.
After yesterday's farce, it' getting ever more difficult to spot the difference between the blundering, hapless, accident-prone office junior Gaston, Mr Bean and our very own accident-prone political superstar Theresa May – a woman clearly promoted well above her level of competence: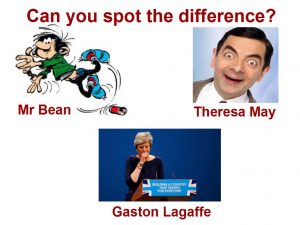 Generally, it's not great for a political leader to be seen as an accident-prone bungler. To be successful, a leader should command our respect, not elicit our pity.
This rather leaves the Tories stuck between a very big rock and an even bigger hard place. If they get rid of Theresa "Gaston Lagaffe" May, then Labour and the public will probably demand a new election which Comrade Jeremy "Maduro" Corbyn would win with a landslide and then turn Britain into Europe's Venezuela. But if the Tories keep Theresa "Mr Bean" May as leader, then we risk another two to three years of recidivist slipping on banana skins till May eventually quits for supposed "health" or "family" reasons to be replaced by someone less accident-prone.
At a time when our enemies – France and Germany – have strong leaders, Britain has a total shambles of a government.
As we approach Brexit, it's not looking great for once Great Britain.