Britain's aircraft carrier farce
Before I launch into today's blog, I thought it worth mentioning Britain's wonderful new aircraft carrier – the only aircraft carrier whose deck isn't cluttered up with untidy aircraft. All the news channels seem to be getting very excited about this great big white elephant and only briefly mention a slightly embarrassing lack of aircraft for the next few years as if this was some kind of surprise.
Well, I hate to be churlish and p*ss on everybody's parade, but on page 55 of my 2006 book – PLUNDERING THE PUBLIC SECTOR – I predicted that Britain would be getting an aircraft carrier with no aircraft. That was 11 years ago. Yet in those 11 years, the stupid incompetents at the Ministry of Defence have been unable to fix the problem.
And, by the way, (also on page 55) I warned that when the MoD bought the aircraft, the MoD experts forgot to also licence the technology and so would end up having a hopefully advanced plane but without the knowledge how to operate it and repair it.
This week's multi-cultural enrichment
It's difficult to choose the best stories of multi-cultural enrichment from around the world. So, here are just a few of so many wonderful tales:
Austria
A teenager accused of gang-raping a 14-year-old girl with his school friends in Austria has moved to the UK, prosecutors say. The unidentified boy is one of six youngsters apparently from migrant families who terrorised the girl at the school in Graz – Austria's second largest city – for months and reportedly raped her at least four times.
On one occasion, the schoolboys allegedly dragged their terrified victim out of the girls' toilets, stripped her naked and raped her in the canteen.
India
A trainee nurse, who was hoping to work and support her impoverished family was raped by a fellow student from our favourite religion while working at a local hospital.
When she reported the attack, the victim family was being pressurized by the hospital authorities to bury the case. It seems that on her refusal to make a compromise, she has been removed from the job. All her belongings are lying in her hostel room which the management has put a lock on.
India
Also in India, a 14-year-old boy was taken by some Moozerlum 'friends' after an argument at a shopping mall. The 'friends' then phoned the boy's mother demanding a ransom. During the call she heard her terrified son being beaten and tortured: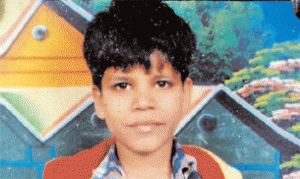 When she failed to pay, her son's body was found dumped near New Delhi Railway Station. Multiple injury marks were found all over his face and the body indicated that he was battered to death, doctors said. However, police remain tight-lipped over the cause of death considering it a "communally sensitive matter".
America
Officials said that Ramadan Abdullah was arrested by Johnson City police on May 31 for shoplifting ammunition.
According to the Broome County District Attorney's Office, when a search warrant was executed on Abdullah's storage unit in the town of Union, the following items were recovered:
Four loaded handguns; Eight assault weapons; 64 high-capacity ammunition feeding devices; One loaded shotgun; Two rifles; Thousands of rounds of ammunition for rifles, pistols and assault weapons, including .50 caliber armor piercing incendiary rounds, numerous firearm parts and flak jackets.
Abdullah was previously arrested when he was found to have enough material to make around 50 bombs but received an unusually light prison sentence..
Britain/America
The libtard lefties – the mainstream media – are once again outraged (as they usually are) about something democratically-elected US President Donald Trump has said. Apparently Trump has dared to suggest that both sides are responsible for the Charlottesville violence. That seems reasonable to me. And I think most people outside the London media bubble would agree. After all, how can you have a mass riot between two factions if only one faction is violent? But for the lefties it is an outrage to suggest that the lefty protesters are ever responsible for violence as lefties are always right.
Britain
You have probaby all had the misfortune to see Channel 4's Cathy Newman. She's the one who starts screaming at any interviewee who dares say anything she considers 'politically incorrect'. When criticised recently for calling Moozerlum rape gangs "Asians", here's what the (IMHO) self-righteous, virtue-signalling, left, progressive Newman replied:
Yeah, right Cathy. The rapists' religion had absolutely nothing to do with their actions. All Asians in Britain – Chinese, Thais, Malaysians, Sikhs, Koreans, Hindus – have also raped tens of thousands of white British trash girls over the last 15 years with the full cooperation of the police and social services. Is that what you're claiming Cathy? Chinese, Thais, Malaysians, Sikhs, Koreans and Hindus are all rapists too?
Faggott-throwing – a new international sport?
I could go on. But you probably get the picture.
Anyway, to cheer us up, here's the latest video by the genius who gave us the utterly brilliant "Join Islam Now". Enjoy: