Please, please give generously. Charity bosses like David "multimillionaire" Miliband desperately need your money.
I've just been subjected to yet another charity TV ad bleating about how we need to give money. This one seemed to suggest that we had a moral duty to hand over our money to some Moozerlum sh*thole, "Yemen", where Sunnis and Shiites are having fun killing each other in just the latest phase of the 1,400-year-old conflict between these two bunches of "I love my snackbar" screaming idiots.
Though from the TV ad I didn't quite understand why hordes of crazies murdering each other should be our problem.
The supposed charity (this one was UNICEF whose bosses get their huge salaries free of any income tax) claimed that just £2 a month could feed a Yemeni child or provide medicine or whatever.
So, I had a quick look at where some of our money goes. I couldn't find UNICEF's figures. So I started with another of the charities I believe is most involved in trying to save Yemen's mini-Jihadis so they can grow up and then can come over to Europe and kill us – the US-based charity International Rescue (not to be confused with Thunderbirds who are probably much more effective than the real International Rescue even though they are fictional).
Former British foreign secretary David Miliband is reportedly paid a staggering $600,000 (£425,000) a year by the refugee charity International Rescue. The huge sum is understood to have been declared publicly for the first time by the US Charities Bureau and also reveals that Miliband's income is the reward for working 37.5 hours a week as head of the charity: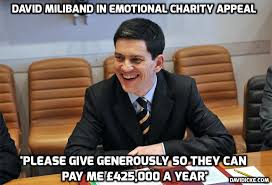 The sum is significantly more than the charity's previous boss, George Rupp,who was reportedly paid $413,000 a year. It is also far more than Miliband earned as Foreign Secretary, for which he was paid £142,000 ($209,000).
The 50-year-old Miliband launched a failed bid to become leader of the Labour party in 2010 but lost out to his younger brother Ed "mill-stone" Miliband, sparking deep divisions within the Miliband family. Three years later David moved to New York with his wife and their two children, becoming president and chief executive of the International Rescue Committee.
His job is to oversee humanitarian aid and development programs in 40 different countries, the budget for which is £450m a year.
So, let's do some simple arithmetic:
It costs £2 per month to feed a Yemeni mini-Jihadi or African starving child or suchlike
David Miliband gets paid £35,417 a month
David Miliband's salary would be enough to feed 17,708 Yemeni mini-Jihadis or starving Africans every month
Moreover, I expect that Miliscum also gets a massively generous expenses allowance to be able to live in one of the most expensive areas of expensive New York. So, we could possibly assume that for Miliband's salary and expenses around 25,000 to 30,000 Yemeni or African children could be fed or given life-saving medicine or whatever.
Is Miliband really worth this?
So, next time you see some fatuous third-rate celeb on TV appealing for your money to supposedly "help" starving kids in some Third-World (usually Moozerlum) hell-hole where the population doubles every 15 to 20 years, remember that the David Milibands of this world, who run these charities and who usually have massive tax-free salaries and expenses, desperately need your money if they're to continue living their multi-millionaire lifestyles.
Please give generously! The world's David Milibands need your money!
And for any readers who haven't seen it, here's a YouTube video I made about our massive, wasteful, corrupt charity industry featuring our favourite singer – Camilla FatManJelly: