(Monday/Tuesday blog)
Many years ago I toyed with the idea of making a living by writing satirical/humorous novels.
I actually had 3 of my novels published by a mainstream publisher and then disaster struck.
Disaster struck in the form of my 4th book. This book was based on something a girl once said to me. From it I wrote what I believe to be one of the best opening paragraphs I have ever read:
"Forget the foreplay – shove it in!" she ordered as she grabbed hold of the Englishman's three-quarters erect thingummyjig and pushed it roughly into an intimate part of herself, rather like a hot-dog vendor shoving a wobbly, recalcitrant frankfurter into a warm sesame seed bun.
But when I submitted my 4th book "FORGET THE FOREPLAY The sex education of an Englishman" to my agent at the time – a very upper-class lady – she said that it was just badly-written pornographic rubbish and she refused to even offer it to any publishers as she feared that offering the book would damage her reputation.
I was somewhat disappointed at this abrupt end to my fiction-writing career. So I had to go off and get a 'proper job', with a salary of sorts and give up all hope of being a great satirical/humorous writer.
But now I've decided to publish "FORGET THE FOREPLAY". It's available as a paperback or as a Kindle e-book: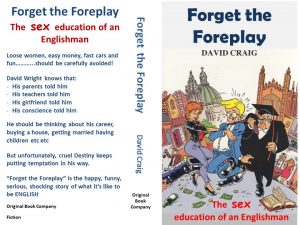 I hope my readers will support me by buying one or even more copies. Then you can decide – is my book just a pile of badly-written pornographic rubbish? Or is it a rather amusing work of literary genius as I have always believed?
You can buy the book at https://www.amazon.co.uk/Forget-foreplay-Sex-Education-Englishman/dp/1508916993/ref=tmm_pap_swatch_0?_encoding=UTF8&qid=1497176606&sr=1-1