(weekend blog)
Ferry to the Promised Land
It's frightening how the elites use words to twist the truth and spread their propaganda. First we were told that the flood of human detritus pouring into Europe were "refugees". But when it became clear that the majority were from countries that weren't actually at war, the elites were forced to admit that many were actually "migrants".
The latest abuse of words to fool us is to tell us how many refugees/migrants have been "rescued". They're not being "rescued" at all. They're being towed out to sea in overcrowded, unseaworthy wrecks by people smugglers and dumped in full view of European ships which then gladly take the migrants on board and bring them to Europe. Moreover, it's never explained to us why the migrants are not dumped straight back to there they boarded their people-smuggler boats rather than being transported to Europe. This is not a "rescue", this is a free ferry service: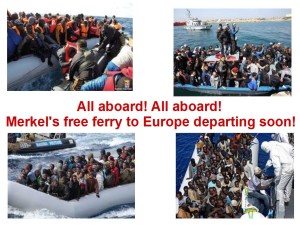 European ships patrol just outside Libyan territorial waters waiting for the people smugglers to deliver their next cargo of human garbage. In just the last 7 days, more than 13,000 migrants have been taken on board Western naval vessels and then ferried to Europe at our expense. About 1,000 more drowned mainly because, as soon as a European ship goes over to "rescue" them, they all rush shouting and screaming and ululating to one side of their boat and, given that it is overcrowded, it naturally capsizes dumping many migrants who can't swim in the sea.
One boss from the Libyan coastguard described how this ferry service was just enticing more migrants to come to Europe, "I blame NATO and the EU for many of these deaths. Their rescue ships now push to the 12 nautical miles limit of our territorial waters. The migrants respond to this by trying to cross in greater numbers and the smugglers respond by sending them to sea in shittier and shittier craft designed to stay afloat for a few hours only. The more are drawn, the more try. The worse their craft, the more die".
Incidentally, among the 117 bodies washed ashore on Libyan beaches, 75 were women and 6 were children. The old British maxim of saving women and children first doesn't seem to have been adopted by the illiterate, uneducated, violent, unemployable, healthy, military-age young men pouring into Europe.
And now this great "rescue" lie will be used for migrants trying to cross the channel. There are over 20,000 migrants waiting along the coasts of France, Belgium and Holland. Our ships will be sent to ferry them over in ever greater numbers and the Brussels Broadcasting Corporation and Channel 4 and the other mainstream media will keep feeding us stories of "heroic rescues" when all we suckers are really doing is providing a complimentary ferry service to the scum of the world.
Once and Afghan animal, always an Afghan animal
A 20-year-old German woman was raped by an Afghan man with whom she came into contact with through the anti-racist network "Refugees Welcome".
The 26-year-old Afghan, who came to Germany two years ago, crept into the woman's bedroom and began to rape her while she slept.
Let's hope the holier-than-thou, self-righteous, look how virtuous and liberal I am young lady has learnt something about the vermin she has welcomed into her country.