I'll keep it simple today and just concentrate on exposing two of Lying Dave Cameron's biggest Remain lies.
Last year, when Dave was acting tough ahead of his sham 'negotiations' to win concessions from his EU bosses, Dave told us Britain could thrive outside the EU. But a year later, the same David Cameron is telling us that leaving the EU will wreck the British economy: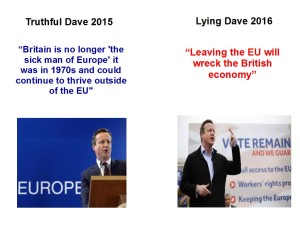 Last week, the Leavers told us that the only way to control immigration was to vote for Brexit and implement an Australian-style points system for people wanting to move to Britain. Lying Dave immediately slammed this idea as harmful to the British economy. Ooops, in 2005, when Dave wanted to become Tory leader, Dave told us that Britain needed to introduce an Australian-style points system to control immigration:
Oh dear. One might be tempted to conclude that lying David Cameron is a recidivist liar.
And here's the magnificent Pat Condell giving his views on the EU In/Out referendum. Enjoy: