You've probably all seen the figures. In the year 2013/14 a massive 574,000 people moved to Britain. That's an incredible 11,038 a week or over 1,500 every single day. No wonder our NHS, schools and police are collapsing. And now we hear that in the year 2014/15 an even more horrific 636,000 – 12,200 a week, 1,750 a day – flooded over our apparently non-existent "borders". That's an 11% rise.
These figures are frightening. But can we believe them? Perhaps a better indication of the real scale of immigration can be seen by looking at how many foreign-born people applied for National Insurance numbers? In 2013/14 this was 668,000. A year later this had shot up to 863,000 – a rise of an astonishing 29%: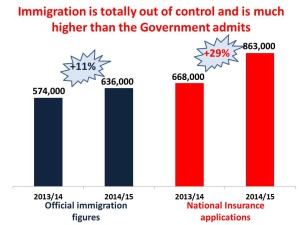 We know we have no control of the numbers that come from EU countries. We handed over that power to Brussels decades ago. But what's even worse is that around 60% of the new arrivals come from outside the EU. That's the immigration our useless Government should be able to control, but does nothing.
Our rulers claim that the immigration numbers show how successful the British economy is. But let's question that for a moment. Around 43% of EU migrants will get some form of benefits. So they will take out much more than they pay in. Moreover, when you add their use of public services, it's unlikely that more than 10% to 15% are actually making any economic contribution to our country.
As for the non-EU (mainly M*sl*m) immigrants. What percentage of them will work? About 30%, if we're lucky. It's unlikely to be higher. So, I would humbly suggest that once you take account of their benefits and use of public services for their massive families, less than 5% are making any contribution at all.
I know a few people in the public sector who have worked with non-EU immigrants and they describe the hell of backward, intolerant human garbage who are always demanding special treatment. But here, from Germany, is a policewoman's elegant but despairing description of the kind of trash we are allowing to overwhelm us:
"For weeks, months and years I have noticed that M*sl*ms, mostly young men, do not have even a minimum level of respect for the police. When we are out patrolling the streets, we are verbally abused by young M*sl*ms. There is the body language, and insults like 'sheisse cop' when passing by. If we make a traffic stop, the aggression increases ever further, this is overwhelmingly the case with migrants.
"I wish these problems were recognized and clearly addressed. If necessary, laws need to be strengthened. It is also very important that the judiciary, that the judges issue effective rulings. It cannot be that offenders continue to fill the police files, hurt us physically, insult us, whatever, and there are no consequences. Many cases are closed or offenders are released on probation or whatever. Yes, what is happening in the courts today is a joke.
"The growing disrespect, the increasing violence against police… We are losing control of the streets."
As for Britain – expect a massive increase in robberies, violence, rape and burglary. But whether the police will honestly record crimes committed by immigrants is another matter. Most likely, as in Germany and Sweden, crimes by immigrants will be conveniently left out of the official statistics so we don't start to realise that Third-World immigration is destroying our country.