Following Rotherham and Oxford and all the other towns where our M*sl*m friends have made gang rape and gang sodomisation of white girls the most popular sport in town, you might have thought they would keep a low profile. You would have been wrong. In a recent blog I wrote about how M*sl*ms in Rotherham had protested about *sl*mophobia. And now we learn that in Keighly, West Yorkshire, a 13-year-old schoolgirl was subjected to months of sexual exploitation by a gang of 14 "Asian" men.
I wonder what our media mean by "Asian" – were they Chinese? Or Japanese? Or Indonesian? It's truly a mystery!
The girl – who was aged 13 when the rapes began – was allegedly attacked in car parks, parks and churchyards around Keighley, by the defendants, one of whom was 59 at the time. The girl said one alleged attacker called her a 'little white s**g' and 'white b*****d', and laughed at her as she wept on the floor.
But Britain's rape epidemic has nothing on what's going on in Sweden. I've previously shown this lovely chart about the increase in rape in our Nordic neighbour: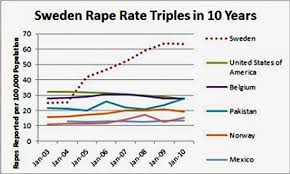 And there was a heartwarming story a couple of days ago about a Swedish woman who was raped twice by different Arab asylum-seekers in Strängnäs. The woman was first caught by a [M*sl*m] man who pulled her down and raped her. After the attack, she started to walk back toward the center of Strängnäs. But just a short distance from the site of the first rape she was assaulted and raped both vaginally and anally by two other Arabs who also spat on her after they had finished raping her.
Sweden, a country of just 9 million people could be taking in around 200,000 backward, unemployable, violent, misogynist Third-Worlders this year. That would be equivalent to Britain allowing 1,500,000 of these excellent people into our country in just one year. Why the Swedes are committing social, cultural and economic suicide is something that future historians will study with amazement.
In conclusion, here's Pat Condell's latest video about Sweden's bright, progressive, multi-cultural future: