Below are two heartwarming stories from the multi-cultural Scandinavian paradise, Sweden, exposing the lies and dishonesty of the ruling elites as they desperately try to cover up the true consequences of the *sl*mic invasion.
But when we in Britain allowed the gang-rape, gang-sodomisation and gang sexual torture of around 1,400 girls over ten years by adherents of the Religion of Peace in just one town, we can hardly criticise the Swedes for also encouraging immigrant rapists.
1. Swedish Migration Board Protects Refugee, Conceals Identity After Rape of 3 Year-Old
A male refugee in an asylum center in Tingsryd municipality in Sweden, on Tuesday raped a three-year-old child.
Responsible of the asylum center learned about the rape during the day, and in collaboration with the Swedish Migration Board had decided to move the man from the accommodation to protect him.
They had also chosen not to contact the police in order to conceal this incident.
However it was revealed when friends of the girl's mother contacted the police. Eight hours later.
But at the asylum center, the police could not get hold of the man, as he had been moved to another place, and employees at the asylum center were reluctant to tell the police of the man's new location, who he was, or any information at all.
According to a radio clip from Swedish Radio, the police had to contact a responsible person in the Migration Board and force the truth from those in charge of the accommodation.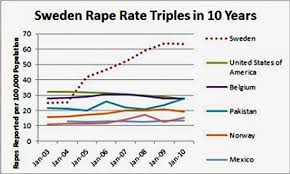 2. Gang rape of 11-year-old
In Stockholm, Sweden, as many as 20 Muslim men gang-raped an 11-year-old girl. A mother was hosting a birthday party at a public bath/swim center for a group of 11 and 12 year old children.
Up to 20 Muslim men who lived at a nearby refugee center arrived at the public bath. They immediately began to assault the children, ripping their swimsuits off and beating the boys when they tried to stop the assault. Eventually, the men cornered one of the little girls in a grotto in the bathhouse and gang raped her. The police refused to press any charges.