Here's a nice map. It shows the *sl*mic world's expansion about 1,400 years ago:
Here's another one – hey it's the British Empire: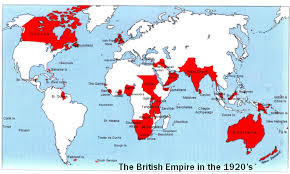 "Rule Britannia, Britannia ruled the waves"
"Britain will probably end up being Germany's slaves"
Here's a map of the world today: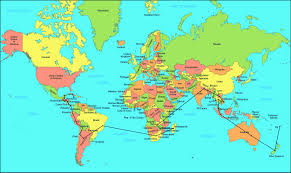 And here's one showing the *sl*mic State's plans for its own future: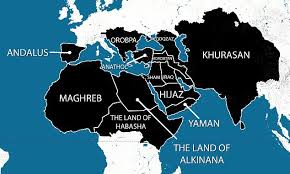 So, if you're thinking of buying a holiday home in Spain or even Greece, you might want to wait a bit. If this map comes about, property prices might fall a lot further. And, of course, you'll have to get used to living next to a mosque.
Here's one showing how *sl*m has spread throughout time: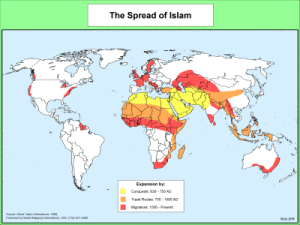 (The red shows *sl*m's most recent expansion – which covers much of Europe, the Caucuses and even parts of Australia. You'll also notice how *sl*m seems to be spreading in waves engulfing ever more European, Asian and African countries)
Sunni and Shia are currently at each others' throats and, helpfully for civilisation, busy slaughtering each other. But there is an old Persian saying: "Me, my brother and our cousin against the stranger. Then me and my brother against our cousin. Lastly, it will be me against my brother".
So, although our M*sl*m friends are clearly crazy as evidenced by their current internecine wars, there is actually nothing stopping the crazies from making common cause against an "identified" enemy – the stranger (non-M*sl*ms, Kaffirs, Unbelievers).
I couldn't find a map where the whole world has become an *sl*mic Caliphate. But I'm sure there is one somewhere.