Sweden has sometimes been called the "rape capital of the world". Although Sweden is a country, not a city, so the description is a bit odd. International comparisons suggest that Sweden has the highest rate of rape of any country apart from Lesotho in the number of rapes per 100,000 inhabitants: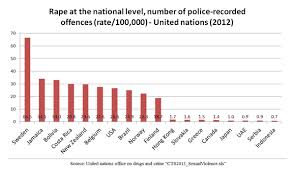 But we have to be careful using such statistics for several reasons. For example, Sweden has a broader definition of sexual assault than many other countries and, were a woman to survive being raped in countries like Pakistan and India, they probably wouldn't report the rape as the woman would most likely be imprisoned and then raped by the local police and all their friends. That, along with the shame being raped would bring on their families, tends to discourage reporting rape.
So, to assess the frequency of rape in Sweden and who is carrying out all these rapes, we might be better at looking at the trend in the number of rapes over time and compare this to the single most important change in Swedish society over the last 50 years – the decision to become a multi-cultural country by allowing a massive influx of (mostly M*sl*m) immigrants: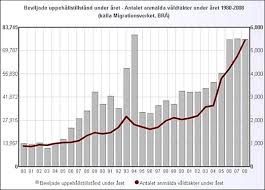 Here the red line (right-hand scale) is the number of reported rapes and the grey columns (left-hand scale) are the number of residency permits granted to foreigners each year.
Apologists for immigration claim that the massive rise in rapes is due mainly to women being more likely to report rape now than they would have been 20 or 30 years ago. So, let's test that idea by comparing the trend in reported rapes between Sweden (the blue line) and the USA (the yellow line):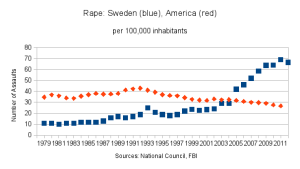 Ooops! That excuse doesn't hold water.
It's odd that in 2008, Sweden's neighbor Denmark only had 7.3 rapes per 100,000 inhabitants compared to 53.2 in Sweden.
Danish legislation is not very different from Sweden's, and there is no obvious reason why Danish women should be less inclined to report rape than their Swedish counterparts.
In 2011, 6,509 rapes were reported to the Swedish police — but only 392 in Denmark. The population of Denmark is about half the size of Sweden's, so even adjusted for size, the discrepancy is significant.
We know that many women don't report rape. So how many rapes are actually occurring in Sweden every year?
According to figures published by The Swedish National Council for Crime Prevention (Brottsförebyggande rådet; known as Brå) — an agency under the Ministry of Justice — 29,000 Swedish women, during 2011, had been raped. That's about 300 rapes per 100,000 people – around five times the official police figures. But studies from other countries (Britain and Norway) suggest that only around 10% of rapes are ever reported to the police. But let's give Sweden the benefit of the doubt and stick with the 'low' (29,000) figure.
And who is carrying out these rapes? This is difficult to find out as the Swedish authorities class children of immigrants as Swedish citizens and never report the ethnic background of rapists. Since 2000, there has only been one research report on immigrant crime. It was done in 2006 by Ann-Christine Hjelm from Karlstads University.
It emerged that in 2002, 85% of those sentenced to at least two years in prison for rape in Svea Hovrätt, a court of appeals, were foreign born or second-generation immigrants.
A 1996 report by the Swedish National Council for Crime Prevention reached the conclusion that immigrants from North Africa (Algeria, Libya, Morocco and Tunisia) were 23 times as likely to commit rape as Swedish men. The figures for men from Iraq, Bulgaria and Romania were, respectively, 20, 18 and 18. Men from the rest of Africa were 16 times more prone to commit rape; and men from Iran, Peru, Ecuador and Bolivia, 10 times as prone as Swedish men.
So, let's assume there are now around say 35,000 rapes being committed in Sweden every year and 85% of these (29,750) are being carried out by M*sl*m immigrants. Furthermore, let's assume that there are around 1,500,000 women in Sweden of 'ideal rapeable age' (15 to 35 years old). Then around 2 in every 100 Swedish women will be raped by a M*sl*m immigrant or, more likely, a M*sl*m immigrant gang.
Makes Rotherham seem like a safe place to bring up your daughter in comparison.
(Oh and by the way, another trend is Sweden is a massive increase in gang rapes of young Swedish men. I wonder which ethnic or religious group could be responsible for that?)