Looking at my headline today, you might think I am a crazed conspiracy theorist or a frothing Little Englander. But the person who revealed that our rulers' plans are to use migration to wipe out individual countries' identities isn't some raving xenophobe. He's actually someone at the heart of the ruling establishment – Peter Sutherland, the UN's special representative for migration – and these plans were reported by our very own BBC.
The EU should "do its best to undermine" the "homogeneity" of its member states, Peter Sutherland, the UN's special representative for migration said. Sutherland told Peers the future prosperity of many EU states depended on them becoming multicultural.
He also suggested the UK government's immigration policy had no basis in international law.
He was being quizzed by the Lords EU Home Affairs Sub-committee which was investigating global migration.
Mr Sutherland, who is non-executive chairman of Goldman Sachs International and a former chairman of oil giant BP, heads the Global Forum on Migration and Development, which brings together representatives of 160 nations to share policy ideas.
He told the House of Lords committee that migration was a "crucial dynamic for economic growth" in some EU nations "however difficult it may be to explain this to the citizens of those states".
Here are some of Sutherland's views on the desirability of unlimited immigration (click on picture to see more clearly)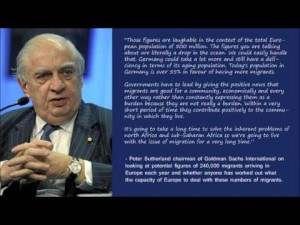 Please note in particular the second paragraph "Governments have to lead by giving the positive news that migrants are good for a community, economically and every other way rather than constantly expressing them as a burden because they are not really a burden. Within a very short period of time they contribute positively to the community in which they live".
Perhaps Mr Sutherland should visit the corrupt, overcrowded, Third-World hell-hole that is Tower Hamlets or the dangerous *sl*mic slums surrounding Paris or one of Sweden's many immigrant, inner-city no-go areas ?
Mr Sutherland, who has attended meetings of The Bilderberg Group, a top level international networking organisation often criticised for its alleged secrecy, called on EU states to stop targeting "highly skilled" migrants, arguing that "at the most basic level individuals should have a freedom of choice" about whether to come and study or work in another country".
So, if you've ever wondered why the ruling elites are allowing our continent and country to be invaded by (largely *sl*mic) hordes, Mr Sutherland has helpfully provided the answer. The aim is to dilute and then destroy the national identities of nation states so we all become part of an amorphous, borderless mass ruled by unelected self-serving, 'we know what's best for you' bureaucrats and bankers like Mr Sutherland and his friends at Bilderberg.
Peter Sutherland is probably one of the most dangerous people in the world and a lot of lives are going to be lost as a consequence of the elites' plan to flood developed countries with a tsunami of violent, backward, religiously-intolerant, primitive Third World human effluent.
And if you can stomach it, here are four minutes in which the (IMHO) repulsive, treacherous, lying, arrogant, elitist scumbag Sutherland explains why nation states should be abolished, why the EU should run Europe and why all national homogeneity should be destroyed by mass immigration and multiculturalism. The video starts of a bit slowly with some dopey Swedish politician introducing Sutherland at some conference or other on migration. But after about half a minute we get to hear from Sutherland about the overcrowded Third-World hell the elites have planned for us:
https://www.youtube.com/watch?v=RgSsM3MGLuk
Now you know what our leaders have in store for us. Be afraid! Be very afraid!
And when civil war does break out in a few European countries, we can be sure that the police and military will be used to oppress the indigenous populations and force the *sl*mic takeover on us as we are terrorised into committing collective cultural suicide.