Here they come. The hordes from the worst hell-holes of Africa and the Middle East. They've destroyed their own countries through their stupidity, ignorance, laziness, tribalism and religious bigotry and now they're heading for Europe so they can destroy our countries too:
How many will come? Maybe 500,000 this year? Maybe a million next year? Maybe more? Who knows? Once the word gets out that European countries are providing free ferry services with food and medical care, millions more migrants will be heading our way.
It's astonishing how Britain, while firing 20,000 troops to save money, can afford to send ships and helicopters to help people smugglers get very rich indeed.
Soon the bleeding-heart liberal lefties and courageous Guardianistas will be filling our TV screens claiming that it's our duty to take in thousands of these people. We're already being softened up by politically-correct TV news broadcasts. Every time they interview someone from the Middle East, the person claims to be a highly-qualified engineer. Odd how they turn out so many engineers in countries that don't even teach science in their schools because they're too busy teaching religious intolerance. And if it's an African, they always claim to be an oppressed refugee and are never asked how many thousands they have paid people smugglers for their trip to the benefits paradise of Europe and especially Benefits Britain.
Well, I've got an idea. If the lefties want us to take these people in, why don't they pay for them? Let's set up a charity to resettle African and Middle East migrants in Britain. First, like so many charities, this charity will need expensive offices in the centre of London and a bunch of highly-paid, highly-pensioned executives and pen-pushers. That'll cost a few million a year.
Then we have the cost of resettlement. Let's assume each migrant will cost us about £20,000 a year in housing, benefits and other public services and let's assume it will take about five years for each migrant to be contributing to our economy, then that's £100,000 needed for each migrant.
Thus anyone who wants to bring these migrants to Britain can contribute from their own salaries to the resettlement charity and, after the costs of the fine central London offices and the generous salaries of the charity's executives and pen-pushers are paid, for every £100,000 collected the charity should be allowed to bring one migrant to Britain.
Doing this would give the lefties the opportunity to put their own money where their big mouths are. It would be interesting to see how much money this new charity would actually collect.
So come on lefties and Guardianistas, set up your charity, contribute your own money and pay for these migrants yourself. The rest of us don't want the migrants here and we can't afford to pay for them.
Plus we don't see the point of filling our country with people who hate us: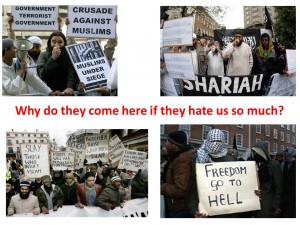 and want to reduce our country to the primitive Third World hell-holes that they've just come from: