Just continuing yesterday's theme about how the recession has led to probably the greatest shift in money from the poor to the rich in British history.
Figures have just come out showing that the ratio of the pay of the bosses of Britain's top 100 companies to the pay of their average employee has reached 149 times. At the beginning of the recession in 2009, the ratio was only 120 times and about 10 years earlier, in 1998, it was a mere 47 times:
There has been a massive explosion in executive rewards, while the pay of their workers has moved up much more slowly. Over the last 30 years, the pay of the average worker rose by a factor of four from around £6,500 to £25,900. Over the same period, pay packages for directors of our top 100 companies rose by a factor of more than 60 from an average of £77,000 to today's average of about £4.8m
Many of these CEOs will claim they only earn just under £1m a year. But with all kinds of bonuses and share rewards, the average taken home by CEOs at £4.8m is more than four times their basic salary: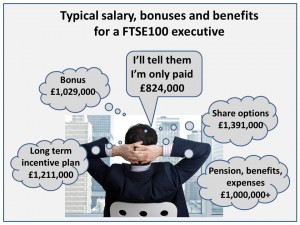 CEOs and their cheerleaders will, of course claim that they deserve all that money because of the wonderful results they produce for their shareholders. But in the 15 years since 2000, the value of Britain's top 100 companies has dropped by about 31% (after taking account of inflation) while the average pay of their bosses has shot up over 300%: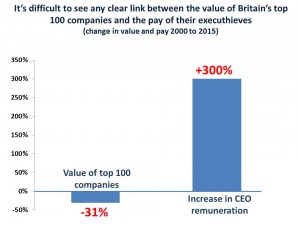 We're seeing a perfect example of what's called the 'principal-agent problem'. The 'principals' of any public company are the owners – the shareholders. The 'agents' are the executives employed to run the company, supposedly on behalf of the owners. But too often there can be a conflict of interest. The principals want the agents to produce good dividends year after year and to increase the company's share price. But executhieves may see their positions as once-in-a-lifetime opportunities to enrich themselves as fast as possible and to hell with the shareholders.
So, my message to you is: "Work harder! Your bosses clearly desperately need ever more money and you clearly don't!"
(By the way, I've just reissued my book GREED UNLIMITED slightly updated to reflect the fact that the Coalition has been replaced by a Tory government. If you've already bought the original version, don't buy the new one as so little has changed between the Coalition and Cameron's new government that the changes in the book are minor. After all whether you look at business, politics or the public sector, all you'll see is unlimited greed, unlimited snouts in the trough of our money. But if you haven't bought the original, I've dropped the price of the new book as paperback or ebook, so maybe now is the time to buy it?)