While Britain's Hindus have made an enormous contribution to our country, it seems that all 'British' M*sl*ms can do is spread hatred, claim benefits and produce endless streams of babies, most of them called "M*h*mmed".
However, now Britain's M*sl*m community has produced a British, and maybe even a global, celeb – a real superstar. Yup, it's our very own Jihadi John – real name  M*h*mmed (of course, what else could it be?) Emwazi.
How proud Mr and Mrs Emwazi must be. Their son is famous. He's been on the TV and in newspapers all over the world. He's very brave. He's not afraid to behead innocent, helpless hostages. Here he is looking at a big knife probably wishing his penis was even half that size: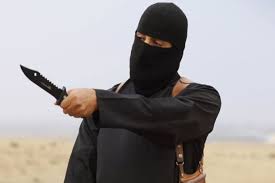 I've no doubt that when Mr and Mrs Emwazi walk through the streets of London (assuming Mrs Emwazi is even allowed out of her home by her husband. master and owner) they are greeted by cheering crowds of British M*sl*ms. After all, the latest polling shows that at least 27% (that's 1,350,000) of British M*sl*ms support the murder of the French cartoonists. If 27% admit this, this probably means that at least half of Britain's M*sl*ms actually believe the cartoonists should have been executed for poking fun at their medieval death cult masquerading as a religion.
I wonder if the imams in Jihadi John's local mosque have a board up with all the latest press cuttings about their most famous and successful recruit. Perhaps they even award Jihadi John points? Say, one point for beheading a M*sl*m opposed to IS, five points for beheading a Middle-East Christian and ten points for beheading a Westerner?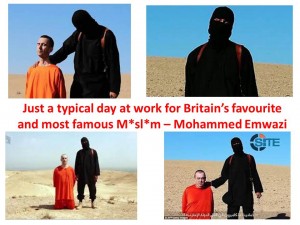 Yup, there must be great rejoicing in London's M*sl*m community as they read about the exploits of their favourite hero. And no doubt other young 'British' M*sl*ms are queuing up, eager to be as famous and as feared as our great Jihadi John –  M*h*mmed Emwazi.
After all, there are already more than twice as many 'British' M*sl*ms fighting for the *sl*mic State than there are in the British armed forces: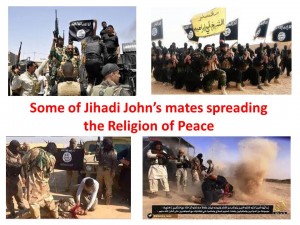 I think that makes it fairly clear where the loyalties of 'British' M*sl*ms lie despite our useless, cowardly, lying leaders' repeated claims that "M*sl*m values are British values".
There are at least 54 M*sl*m countries in the world. It's a pity our 'British' M*sl*ms don't seem particularly keen to live in any of them. I wonder why? Can't have anything to do with benefits, can it?
Meanwhile, we can expect much more of this…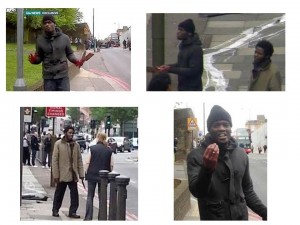 and this: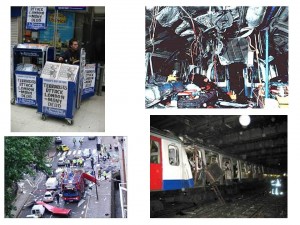 from Britain's ever so well-integrated M*sl*m community.
Thanks for everything Mr and Mrs Emwazi!