Christmas is the time of year for a tsunami of charity appeals by our bloated, self-serving charities with their over-paid, over-pensioned bosses. One cause they repeatedly ask us to donate to is helping poor refugees. This year it's Syria:
And, every year for the last 50 years, it's also been Africa:
But what are refugees? Victims? Or people who are so stupid, corrupt and intolerant that they have wrecked their own countries, most of which would be rich and peaceful if it wasn't for the corruption, bigotry and pig-ignorance of their people?
And, of course, there will be huge pressure on our Government to allow thousands upon thousands of refugees and supposed asylum seekers to come to Britain.
But what happens when they come here? Are they grateful to us? Do they ever thank us? Or do they forever claim we discriminate against them as we fill their pockets with benefits? And do they hate us and try to impose their rather unbritish ways on us?
And then do they try to kill us, either in Britain?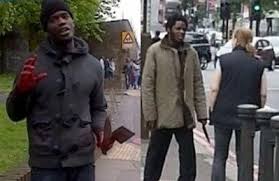 Or by joining those who seek to destroy us?
In 10 to 20 years, historians will look back in amazement at how one of the most tolerant, prosperous and peaceful countries in the world committed cultural, religious, economic and social suicide by allowing itself to be swamped by hordes of people who loathed everything that country represented.