You're probably aware that "scientists" at the IPCC today release their latest report claiming catastrophic consequences unless humans reduce their output of CO2. The BBC are already creaming themselves with delight. So, amidst the torrent of hysteria about to be manufactured by a politically-correct, over-excited media, let's remember a few basic facts:
1. It isn't our fault – humans are only responsible for a tiny 3.6% of the CO2 that enters the atmosphere:
– Around 800 gigatonnes of CO2 enters the Earth's atmosphere every year (give or take a few gigatonnes).
– About 439 gigatonnes of CO2 come from vegetation and the land – nothing to do with human activity!
– About 332 gigatonnes come from the oceans – nothing to do with human activity!
– Only around 29 gigatonnes come from human activity – burning fossil fuels and farming.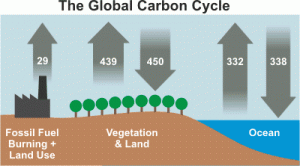 2. No relation between CO2 and temperature – as the quantity of CO2 being emitted by human activity has shot up, the earth's temperature has remained largely unchanged for 17 years: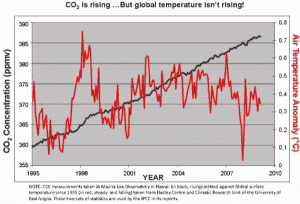 So there cannot be any causal relationship between human CO2 emissions and temperature. The "scientists" have come up with ever more implausible theories – for example, "the heat is hiding at the bottom of the oceans" – to try to explain why their Global Warming theories have been so thoroughly discredited by reality.
3. Growing panic amongst Warmists – the more evidence there is that mankind's CO2  emissions don't cause any Global Warming, the more insistent the desperate gravy-train-riding, grant-hungry "scientists" have become: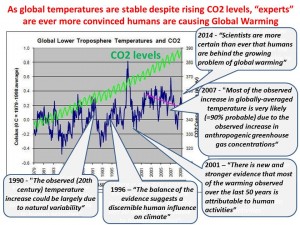 4. Over 97% of scientists agree – the claim that "97% of scientists agree that CO2 emissions cause Global Warming" is garbage achieved by a totally dishonest manipulation of the data. Here's how they did it for those who are interested www.snouts-in-the-trough.com/archives/6722
5. Arctic ice cap disappearing – there is evidence that the Arctic ice cap is shrinking. But, at the same time the Antarctic ice cap is reaching record levels. As most of the Earth's land mass is north of the Equator, the change in Arctic ice may influence the climate for many people. But what we are seeing is just Climate Variation, not any overall warming.
6. It's the Sun what did it – the Warmists have repeatedly refused to investigate whether there is any relationship between solar activity and the Earth's temperature as, if this relationship did actually exist, then their luxury lifestyle of receiving almost limitless research grants and jetting off to international conferences in some of the world's best holiday resorts would come to an abrupt and unwelcome (for them) end.
In 50 or 100 years, historians will look back in amazement at how our useless, grandstanding politicians ever swallowed the "Man-made Global Warming" fraud and how the West committed economic suicide fighting against something that wasn't even happening.