Reading the comments on my blog yesterday, I did start to wonder about the state of our schools http://www.snouts-in-the-trough.com/archives/11009
Of course, every government claims they are 'transforming' education in Britain. Yet every international comparison shows we're falling ever further behind our competitors.
One of the best books I've read about British schools is "It's Your Time You're Wasting" by Frank Chalk (no it's not one of my books, so readers who refuse to support this site by avoiding buying my books can buy this one without needing to worry about helping this website continue)
I've no idea what's really happening in our schools, but it seems to me that no school can excel unless two basic principles are in place:
1. All parents take full responsibility for the behaviour of their children
2. No child, who wants to learn, should have their education harmed by those who are disruptive or can't be bothered.
I think these two principles should be put up in every classroom and should be the basis of all decisions made by each school.
But how do you make this happen? Here's my totally and absurdly politically-incorrect solution:
1. All schools should be split into two main streams – the "Want to learn" stream and the "Can't be bovered" stream
2. At the start of each academic year, parents should choose which stream they want their children to go into
3. For the "Want to learn" stream, at the start of each year parents should sign a legally-binding contract with the  school whereby parents commit to take full responsibility for their children's behaviour in school, to ensure they support teachers against their children and to pay a fine of £10 for each of the first five disciplinary actions taken against their child, £20 for the next five, £30 for the next five and so on until a child has amassed 30 disciplinary actions at which point they're moved to the "Can't be bovered" stream
4. For the "Can't be bovered" stream, our attitude should be 'if you can't be bovered, then British taxpayers can't be bovered either'. We should not waste teachers' time on the "Can't be bovered" stream. Instead we should give them a very simple curriculum consisting of basic English, maths and computer skills taught by ex-military or ex-police with the ability to impose physical exercise as punishment for poor behaviour. However, we should also accept that some children have behavioural problems because they're unsuited to academic work, but may be good at manual work. For these children we should provide starter courses in bricklaying, plastering, plumbing, electrics, carpentry etc. And some of them might even flourish.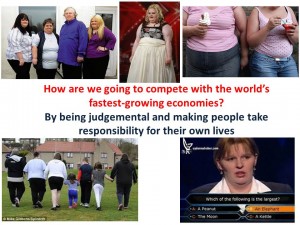 Our society has ceased to be judgemental (click on picture to see more clearly) on those who have no self-control and no self-discipline. Though opinion-leaders are ragingly judgemental on anyone daring to criticise the Religion of Peace, suggest that corrupt, incompetent Africans are responsible for their own misery or propose that the fat and useless take responsibility for themselves.
This perverted censorship has allowed many people to abdicate taking any responsibility for their actions or the actions of their children. Until we return to being judgemental on the lazy, stupid and useless and force these people to take responsibility for their own lives, I can't see how our schools can every compete with the best in the world.
Special Offer!!! For the next 2 days, the Kindle copy of GREED UNLIMITED is available for just £0.99. http://www.amazon.co.uk/GREED-UNLIMITED-Cameron-protect-squeezing-ebook/dp/B009EWPYT2/ref=pd_sim_kinc_1?ie=UTF8&refRID=1FQCFM19PK6VGAGHJH17 Surely there must be some readers who can afford that?