You'll all have read about the farce that was Ed Miliband's conference speech. The speech in which he never mentioned either the deficit or immigration. We've already had Miliband claiming both that he deliberately left these subjects out and that he forgot about them as he didn't use a script. 'Forgot'. My a**se.
But I'm not here to repeat what other people have already pointed out. That's not the purpose of this website. Instead I'd like to focus on the people sitting behind Miliband as he gave his great oration. I suspect that these (IMHO) total nobs are hand-picked by Miliband's PR people and that the PR people also choose exactly where each of these (IMHO) total dickheads sits in order to create the best subliminal impression with the public whose votes Miliband most wants to attract.
So let's look at these (IMHO) self-serving prats (click to see more clearly)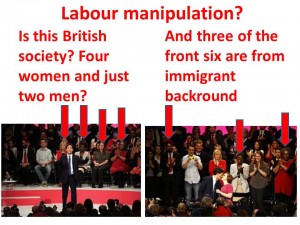 The first thing you'll notice is that there are six people who will appear more on our TV screens than all the others. Of these six, four are women and half of the six are clearly from immigrant backgrounds.
Miliband's two subliminal messages are: 1. By showing more women than men that Labour are caring unlike the nasty Tories, hence all the blether about the NHS and not a mention of the deficit or the debt.  2. "Immigrants R Us" – if you're an immigrant, then vote Labour, hence not a mention about Labour controlling immigration.
But let's look even closer at this stage-managed farce. The one person who appears most in all the TV clips of this speech, which will be seen on the TV news by millions, is probably the gravitationally-challenged coloured lady on Miliband's left (your right).
Here she is (click to see more clearly)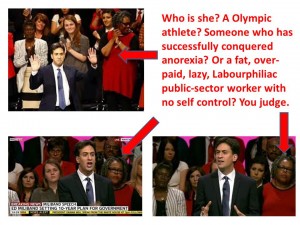 Now, I don't know who she is. She may be an Olympic athlete wearing an 'Eddie Murphy Big Mama' fat suit for fun.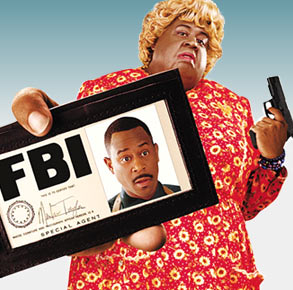 She may be someone who has been successful in fighting anorexia. She may be a lean, mean entrepreneur busily creating loads of jobs. Or she may be a fat, self-indulgent, lazy, donut-guzzling, public-sector or Labour-party worker with absolutely no self-control who never does any exercise. I let you judge.
But one thing is clear – she was put in that prominent position for a purpose – to signal to people like her "Vote Labour" and you'll get lots of benefits and support while nobody will dare being 'fatist' by criticising you for being a greedy fat-arse who probably couldn't waddle more than fifty metres before collapsing in a great pile of foul-smelling, heaving putridity.
I don't blame the lady for her looks. None of us is perfect and she's free to choose her body weight by the amount she eats and the amount she exercises. What I criticise is Miliband's spin-doctors' manipulation of the audience to send a subliminal message to voters. And I think the choice of the six people who would appear in the TV reports in the front row during Miliband's speech and the choice of an (IMHO) lazy, useless, public-sector lard-lump to take the most prominent place tells us a lot about the kind of people whose votes Labour is out after.
But, I may be wrong. Who knows? Perhaps lard-lump is really Dame Kelly Holmes having a day off training.
(btw if readers want to write comments or see comments, you have to click on the title of the post)