The awful Ed Miliband provoked some derision yesterday when he gave his 'great' conference speech and talked about him being in power for ten years 'to fix Britain'. But I'm not laughing. Here's why:
1. Labour have more than a 20-seat advantage because Cameron didn't have the spine to stand up to schoolboy Clegg over electoral boundary reform
2. There will be massive postal fraud in mainly Labour-voting M*sl*m areas. But as with the gang rape, gang sodomisation and torture of perhaps 10,000 or more white girls by M*sl*m Pakistani men across Britain, nobody will dare say anything for fear of being labelled "waaaccciiiissstttt!!!" Remember, it's no law for M*sl*ms in Britain and one law for the rest of us
3. Around 54% of the population get more in services and benefits than they pay in taxes. When Miliband blethers on about "fairness" they know what he means is that they'll continue to get something for nothing paid for by someone else. And who wouldn't vote for that?
4. Labour has massive majorities in benefits-dependent Scotland and Wales
5. The majority 'right' vote will be split between the Tories and UKIP as many patriotic British distrust and even loathe the greasy, lying, u-turning, spineless PR spiv Cameron so much that they just couldn't bring themselves to vote for him
6. Only about 9% of the electorate have any economic understanding at all and realise that as long as we have a deficit then our debt continues to rise. The other 91% have no idea that with a deficit of £100bn a year and debt of over £1.4trn we are going bankrupt. So they can't see anything wrong with Balls continuing liar Brown's borrow and spend policies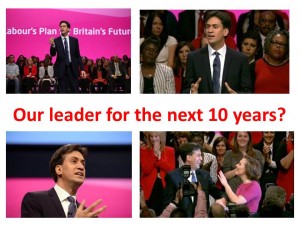 So, that's how Miliband can scrape into Downing Street.
How will he stay there for 10 years? First you have to consider all the six points above. Then you have to add in:
1. Under Miliband around 46,000 immigrants a month – over 500,000 a year – will continue to flood into Britain. So that's up to 2.5 million more Labour voters by the time of the 2020 election
2. Miliband will use the example of the Scottish referendum to extend the vote to 16- and 17-year-olds by the 2020 general election. Most of these will tend to vote Labour
So, ten years of Miliband? Are you still laughing? I'm not.
Moreover, in the longer term, with birth rates for ethnic British falling and birth rates for immigrants, especially M*sl*ms, rising to almost three times the rate for ethnic British, Labour will gradually build up a demographic that will make pro-British parties unelectable. As one newspaper reader commented yesterday in a short statement that I thought was brilliant "The battle for Britain will be lost in the maternity wards of England"
(By the way, my experiment yesterday didn't work. The readership of my blog is still falling and nobody is buying my books. I'll have to think of something else)