Oxfam claims that £8.40 of every £10 donated goes directly to 'saving lives'.  I've previously warned readers about Oxfam as I believe that less than half the money given to our 'best loved' charity actually get spent on 'charitable purposes'  www.snouts-in-the-trough.com/archives/6022
Anyway, Oxfam were on our TV screens again yesterday evening asking us to donate money for sad-looking people in Gaza (click to see more clearly)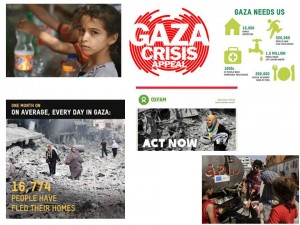 But hold on a minute, maybe some people in Gaza actually have an awful lot of money. And maybe much of that money came from stealing previous aid millions that we gave and from various extortion schemes on Hamas businesses. And maybe some of those very very very rich Gazans are either Hamas leaders or former Hamas leaders. And could Hamas's continuous war against Israel just be a get-rich-quick scheme for Hamas bosses?
Dr Musa Abu Marzook, a key fundraiser for Hamas, was reported to be one of Hamas's wealthiest billionaires with personal wealth of $2bn to $3bn. Nice work if you can get it.
Another Hamas leader-turned-tycoon is Khaled Mashaal. "Estimates around the world are that Mashaal is currently worth $2.6bn, but the numbers mentioned by the Arab commentators (based on their many sources) are much higher, varying from $2bn to $5bn invested in Egyptian and Persian Gulf banks, and some in real estate projects in the Persian Gulf countries," an expert in Middle East affairs claimed.
Another 'lucky' tycoon is Hamas Prime Minister Ismail Haniyeh. "He is a scion of a family from the Al-Shati refugee camp, and his capital is estimated at $4m," the same expert says, adding, "He registered most of his assets in the Gaza Strip in the name of his son-in-law, Nabil, and in the name of a dozen of his sons and daughters and a few less well known Hamas leaders. They all have homes in good neighborhoods in the Gaza Strip, where the value of every home is at least $1m."
Yet another wealthy Hamas official – Iman Taha – is not on the organization's highest levels, but he, too, (and other junior managers) is accused of feeding from the trough. "He was a poor rebellious kid from the al-Borg refugee camp, but he recently built a home in central Gaza worth at least $1m. He's responsible for coordination between oversea Hamas and Hamas in the Gaza Strip, and he's not even a leading figure, but he's already among the millionaires."
The question of where these officials got their money exposes the corrupt system used by Hamas through its control of the money pipelines in the Gaza Strip. They treated the money as their own personal possession. "Most of the money that went into the pockets of people in the Gaza Strip was obtained through tunnel deals and the creation of a flourishing smuggling market, which it is believed has created several hundred millionaires in the Gaza Strip, although most of the people there don't live like that. The man pulling the strings from Egypt with the tunnels is none other than the number two man in the Muslim Brotherhood, Khairat el-Shater. His connection with Hamas was ostensibly for Islamic religious purposes, but they actually built a prosperous business, which earned phenomenal profits".
The Asharq Al-Awsat (Middle East) newspaper, one of the most prestigious in the Arab world, recently reported that at least 600 millionaires were living in the Gaza Strip – the same people sitting on the money pipelines there.
I wonder why Oxfam doesn't mention this in its tear-jerking TV campaign. Could Oxfam be deliberately deceiving us about the real situation in Gaza in order to keep its own bosses and workers in their well-paid, well-pensioned jobs?