This dilapidated wreck of a building, Radcliffe Court, stands in one of the best locations within Bournemouth's East Cliff conservation area (click to see more clearly)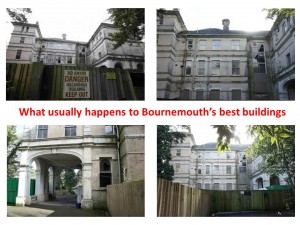 This once beautiful and historic building has been allowed to rot and this week developers will probably get permission from Bournemouth Council Planning Department to demolish it so they can built some nice, luxury lucrative flats with stunning sea views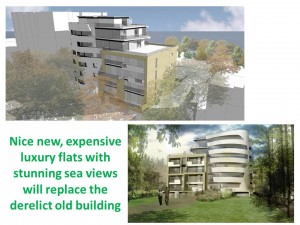 How was this allowed to happen? After all, in the East Cliff conservation area planning rules are so stringent that you need planning permission even if you want to trim some trees. So destroying a major building should be an absolute no no.
The architects' report concluded (helpfully for the developer who had employed them) that the "former merchant's villa on a prominent cliff top site within the Eastcliff Conservation Area of Bournemouth had suffered major failure of the building envelope resulting in the building becoming uninhabitable and derelict".
Well, I wonder who allowed the building to become "uninhabitable and derelict"?
But never mind, because the architects will give us something much better, "Intensive analysis and comprehesive pre-application discussion has resulted in the prepartion of a planning application to redevelop the site and replace the existing building with a new high quality, contemporary residential building befitting of both its setting and its immediate context.
This exciting new building resolves the competing massing proximoties and architectural language of the adjoining buildings. It maintains historic building lines with facades that addresess both the conservation area and the coastal frontage, with a boldness and elegance befitting of its setting".
In fact, what's happening to Radcliffe Court has happened and is still happening to many buildings in the supposed conservation area. There was 9 Derby Road. This was bought up by developers, emptied, fenced off and allowed to become derelict. With 9 Derby Road, someone even hastened the building's demise by setting fire to it so it became so unsafe that it had to be levelled.
The developers claim the fire was started by a homeless man who died in the blaze. The police, of course, fully accepted the developers' version of events. Locals are not so sure, with many suspecting deliberate arson. And now a nice profitable care home has been built no doubt earning the developers a bundle of money.
So, which building will be next? Well, just round the corner from 9 Derby Road is 27 Knyveton Road. Here it seems to be a similar story. Large old building emptied, fenced off and allowed to become derelict. Perhaps Bournemouth's planners will soon be giving permission for this too to be knocked down to make way for flats.
Meanwhile, I wonder whether in Bournemouth's Planning Department they'll be happily singing a little song that goes something like this:
Oh, I do like corruption by the seaside
Oh, I do like corruption by the sea
Oh I do like to see those old buildings knocked down
So we can all become rich tiddly um pum pum
Or perhaps they're all as honest as the day is long and so many buildings suffering a similar fate is merely coincidental? Who knows? Not me.
By the way, the Torygraph has a big article today claiming that Dodgy Dave's reshuffle was 'a bold roll of the dice by a brave PM'. Hopefully anyone who read my blog yesterday will understand that the reshuffle was just a bit of PR spin by a PR PM.