With just 301 days to go before the 7 May 2015 General Election, hopefully some Tories are thinking about getting new careers. Why? Because at least 70 of them are going to lose their comfortable, well-paid, well-pensioned, generously-expensed seats in the House of Commons. Of course, many will be hoping or praying that they get shunted up to the Lords so they can carry on hoovering up our money till the day they die. But most will not be so lucky.
However there is a way for many of these 70 to cling on to their well-rewarded House of Commons sinecures. The polls are sending a pretty clear message for anyone who wants to see it (click to see more clearly)
Because Dave funked going against schoolboy Clegg over the issue of electoral boundary reform, Labour are going to win the 2015 General Election and, possibly with the help of the few remaining LibDems, will form the next government. Of course, as we get closer to May 7 2015, many people will look at the impending horror of Miliband as PM and Balls as Chancellor and Labour support may drop slightly. But this probably won't be enough to counterbalance the twenty or so seat advantage Labour have thanks to Cameron's cowardice.
But there is an obvious solution. If the Tories and UKIP were to form an electoral pact, then they would thrash Labour and LibDems. Such a pact could mean the Tories agreeing not to stand against UKIP in say 30 to 40 constituencies, with UKIP agreeing to support the Tories in the other 610 to 620 constituencies.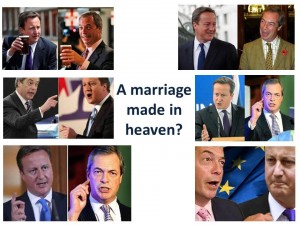 Then a Tory/UKIP coalition could run the country for the next five years and hopefully save Britain from the certain bankruptcy a Miliband/Balls (actually McCluskey/Serwotka) government would inflict on us.
However, this would mean Dodgy Dave Cameron putting aside his pride for the sake of his country. And how likely is that?