Everyone knows the cliché 'the operation was a success, but the patient died'. Perhaps this could be applied to Britain's supposed 'recovery' from the 2008 financial crisis?
Almost every day we hear about Britain growing faster than any other developed country: how both manufacturing and services are growing: how our deficit is coming down and how stock markets are at record highs. Even Labour, who should be lambasting the Coalition's economic performance, agrees that Britain is recovering but complains that with the 'cost of living crisis' only a few people benefit from the 'recovery'.
There's just one thing none of our opinion leaders and other 'experts' seems interested in mentioning – the massive rise in our national debt. This will have gone up from £350bn in 1997 to £700bn by the 2010 election to over £1.4trn by the 2015 election – an astonishing £46,000 for every taxpayer in Britain. To use another cliché, our debt is the 'elephant in the room'.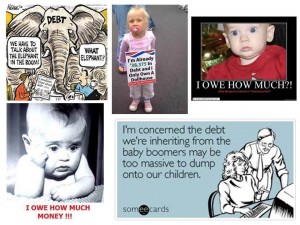 Our interest payments on this Alpine mountain of debt are shooting up from £26bn a year in 2000 to £30.5bn a year in 2010 to £52bn a year by 2015 to £68bn a year by 2018.
To put this into context, we're already paying more in debt interest each year than we pay on defence (£42.9bn).
We can expect relative calm till after the next election. But by around 2016/7 we can expect the proverbial to really hit the fan as our debts become so huge that the government can only borrow more at extortionate rates of interest.
There are only three ways a government can reduce debt:
1. Increase taxes Despite all the bleating by Guardianistas and the BBC about 'brutal cuts', public spending has actually increased every year the Coalition has been in power. As our leaders seem unable to reduce spending, they will be forced to tax us more. VAT has gone up, tax deductions on pensions savings have been whittled away and taxes have also been increased by not raising thresholds in line with inflation. Expect an awful lot more of this whoever wins the next election.
2. Renege on promises The Government has made a series of promises to us – these include paying various benefits and pensions. If the Tories win in 2015, we can expect necessary further reductions in our overly-generous benefits system (amid much bleating and handwringing from Guardianistas and the BBC) and for the government to step carefully away from its obligations to pay pensions by reducing amounts paid and eligibility. If Labour win in 2015, Miliband and Balls will probably increase benefits for the idle, feckless and parasitic while taking away the state pension away from anyone who was responsible enough to save in a company or private pension.
3. Default A government can directly default – refuse to pay it's debts. Britain won't do this. Instead the government will 'default by stealth' by allowing inflation to rise sharply thus devaluing the currency and reducing its own debts in real terms. We can already see this in the way the government only uses CPI as a measure of inflation rather than RPI which includes rapidly rising housing costs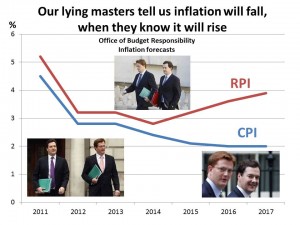 From now till 2016 is the calm before the debt storm hits us. But around 2016 or 2017, things should get quite 'interesting'.