Most readers will know that BA (formerly but no longer the 'World's Favourite Airline') runs a loyalty scheme whereby the more you fly, you more points you collect theoretically to be exchanged for free flights or upgrades. I think the BA scheme used to use 'Airmiles' but now BA calls them 'Avios Points'.
Anyway, a couple of years ago, my better half and I did a 6-month round-the-world trip with BA/Quantas and clocked up a surprisingly modest number of BA's Avios points considering the distance we travelled. This week, I decided to use my depressingly few Avios points but was confounded by what looks like a massive scam being run by useless BA.
I had two problems:
1. The 'you can't upgrade' scam First I rang Trailfinders to book a BA long-haul flight and tried to use my BA Avios points to upgrade us from monkey class to premium monkey class. No luck. I was told I would have to book my flight direct with BA to use my points for an upgrade. So I rang BA.
After 16 minutes expensively listening to the BA theme tune, I finally managed to speak to a human being. I tried to make the booking and do the upgrade with my points. But I was told that to upgrade from economy to premium economy, I would have to book the most expensive economy ticket – over £300 per person more than the ticket with BA that I could get from Trailfinders. I agreed anyway.
Then I hit the next obstacle. The BA agent claimed that all the possible upgrades with Avios points were already sold out, so I couldn't use my points to upgrade anyway. Please note that I was looking to upgrade on a long-haul flight on any day in March 2015 – almost a year away! Yet, apparently the upgrades on all the 31 flights I could have taken were 'sold out'!!!!
So, no luck with my upgrade. Back to Trailfinders where I managed to book premium economy seats with a rival airline for less than the price of economy class seats with BA.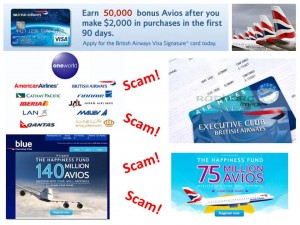 2. The 'free flights' scam Being rather stupid, I had another brilliant idea – use my pathetically few Avios points to book my better half and I on a week's holiday to Nice. On the phone again. This time only 15 minutes listening to the BA theme tune before contact with a BA booking agent. I found the flights from Gatwick to Nice, made the booking and was feeling pretty satisfied till the booking agent said I'd have to pay £170 in 'taxes'. Now, I realise that taxes on flights are quite high. But before ringing BA, I'd looked at the EasyJet website and found that I could fly the same Gatwick-Nice route with EasyJet for £150 for two of us including flights and taxes.
So, I asked the BA booking agent how the 'taxes' on a supposedly 'free' BA flight could be higher than the full cost of a flight including taxes on a rival airline. First she claimed that EasyJet didn't fly from Gatwick. Lie. Then she claimed that EasyJet had lower taxes because EasyJet was a 'charter airline'. Lie. Then she said that if I wanted to discuss the matter further she'd put me through to 'Customer Services' and cut me off.
Conclusion – Having flown every week for over 20 years when I was working and having reasonable experience from more than 1,500 flights on various airlines, I'd say that the BA Avios points scheme is a massive scam.
You have been warned.