In spite of today's 'everyone is a victim' and 'nobody is responsible for anything' society, I'm having trouble accepting the wailing and howling of a few recent supposed 'victims'.
Firstly Oscar Pistorius This is a man with almost superhuman willpower which has enabled him to overcome a terrible handicap. Yet day after day, we see him weeping and moaning and making out almost as if he is the victim of the ghastly situation he is now in. I've no idea and no opinion on whether he is guilty or not. But I am troubled by his performance and worried that it possibly reflects careful coaching in acting by his defence team rather than genuine emotion. Does Oscar deserve an Oscar? I don't know, but I find his 'victim' status disturbing.
Then there's Hillsborough As my family is from Liverpool, I am well-acquainted with Liverpudlians' almost infinite ability to play the aggrieved victim, whatever the circumstances. I can believe the police and emergency services misjudged the situation, bungled their intervention and then did a cover-up. But if wretched, drunken, violent, feral Liverpool football fans hadn't caused trouble in the first place, then there would have been no deaths and no cover-up. So the families' claimed 'victim' status constantly repeated by the media worries me.
Moreover, I find it deeply troubling that Liverpool supporters were also involved in (responsible for?) that other appalling football disaster – at Heysel Stadium in Belgium where 39 Heysel fans were killed and about 400 injured. Coincidence? Or an indication that the Liverpool supporters are not quite the innocent victims they and their families portray them to be? (click to see more clearly)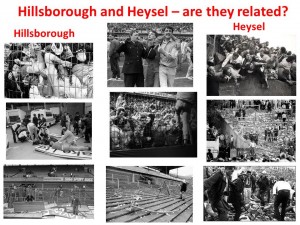 And now, I'll probably lose almost all my readers with this, but both I and the people I've talked to about this find it more than disappointing that less than one in ten readers of this site have shown support for my work by buying copies of my latest book DON'T BUY IT! Maybe that's just how things are in today's Britain? Or am I just playing the aggrieved victim and the real problem is that my books simply aren't interesting enough for people to want to buy them? Who knows? But here's an email I received a couple of days ago:
Mr Craig
Loved your new book – will write a favourable review on Amazon later today. I will also send a couple to friends. Keep up the good work – nil bastardi carborundum!!
Kind regards
So, maybe it's not my books that are the problem?