Yesterday I came across a quote from the fragrant Angela Merkel which encapsulated the self-inflicted economic catastrophe that is engulfing many European countries. Apologies if you already know it. The great hausfrau has repeatedly said  "The EU has 7% of the World's population; 24% of the GDP; and 50% of the social costs".
While the Asian countries prosper and create their own ASEAN "Common Market" (without the corrupt, wasteful, undemocratic Brussels bureaucracy), many developed countries are floundering as their social costs spiral out of control (click on chart to see more clearly)
(I haven't bothered mentioning basket-case Africa's economic prospects as I suspect Africa will continue to go backwards under its worthless, venal, violent, kleptocrat leaders)
Britain is not in such a disastrous situation as our friends in France (click to see more clearly)
But after January 1 2014, many more of this lot will all be able to come to Benefits Britain: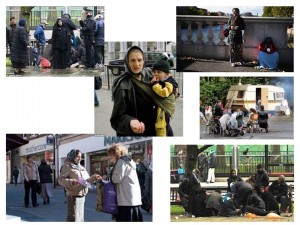 And they'll be able to claim many of these benefits:
Attendance Allowance
Child Benefit
Council Tax Benefit
Guardian's Allowance
Housing Benefit
Income Support
Income-based Jobseeker's Allowance
Industrial Injuries Disablement Benefit
Carer's allowance
Reduced Earnings Allowance
Severe Disablement Allowance
Statutory Sick Pay
So our benefits bill will shoot up as the EU tries to halt its economic decline by using Britain as the dumping ground for its unemployed and unemployable.
Next time the biased BBC starts bleating about the "cruel Tories" setting a cap on benefits for a family at around £25,000 a year, please remember that we have to cut our benefits bill by about a third if we're to avoid national bankruptcy.
Tomorrow, I might do something very politically-incorrect. I might try to discover if there is any mathematical relationship between the size of each EU country's social spending and the size of their Muslim populations. That would be something that no journalists would ever dare to do if they wanted to keep their job in PC UK.