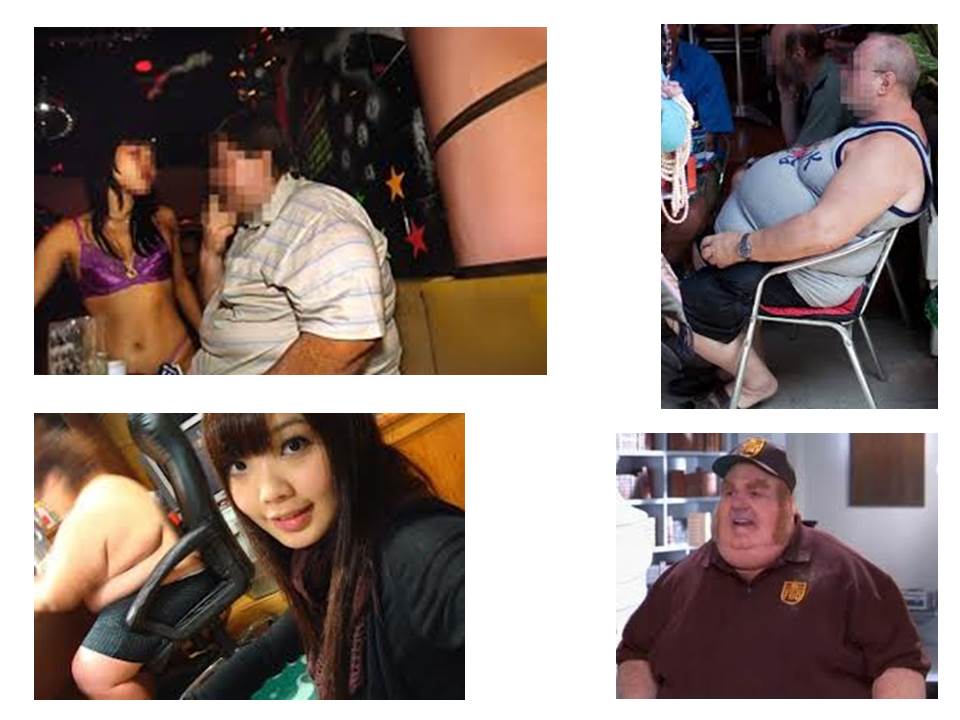 I'm rushed for time today and so thought about doing a piece on how obese sex tourists (often weighing 200kg or more as in the pictures above) do boom boom with girls in the Land of Sm*iles often weighing around 45kg.
But following complaints from readers about my "descent into smut" when I did a piece on Gogo Bar girls, I'll spare you the grisly anatomical details.
Instead, I'll write about the Pattaya Flying Club.
Just up the road from the beach resort where I'm staying, is the world famous Pattaya. Expats talk about something they call the "Pattaya Flying Club". These are the Falang (white foreigners) who go to meet their Maker after jumping (or being pushed) off a balcony – preferably sixth floor or above to get the best results. There seem to be 4 main types of members.
1. Party party, whoops I'm broke  – some men come here and are completely intoxicated by the sun and the party atmosphere. They spend their days (and nights) in bars surrounded by admiring locals who laugh at all their jokes and make them feel important and appreciated for the first time in their sad, loveless lives. Often they overstay their visas enjoying the wonderful food, cheap alcohol and unlimited quantities of s*x. But one day they wake up from their hangover, in bed with several girls (or boys depending on their preference) broke and in trouble. Ashamed to go back and face their families and friends, they walk out onto their balcony and wheeeeee – they join the Pattaya Flying Club.
2. I run a successful bar in Th**land – Many Falang come here during high season, see the bars teeming with tourists and think – "hey, this is the good life". So they buy a bar, spend their life savings doing it up and wait for the money to come pouring in as they spend their days eating, drinking and having s*x. But then the rainy season arrives, there are no tourists and they watch day after day as their money pours out. Finally, bankrupt, unable to find a sucker to buy their pathetic little bar from them, they too are ashamed to go back to their families and friends to admit their failure and so out onto the balcony they go and wheeeee – members of the Pattaya Flying Club
3. But she (he) said she loved me – Then we have those who have settled down with a local girl (or buy depending on their tastes), have lavished money on their partner and then find out their partner is seeing other men. Often this is hardly surprising when the Falang is 50 or 60 years old and their girlfriend (or boyfriend) is about 20 and wants some fun in their lives. In despair, some of these men head out to the balcony and join the Club
4. I was happily married – Quite a few Falang are so entranced with the lifestyle in the Land of Sm*les that they marry a local girl (perhaps not knowing that she is already married to a local man). Foreigners cannot buy land or houses here (they can buy some condos) and so often have to put their properties in the name of their local partner. Once they are firmly married and the wife has full title to their property and their assets should they happen to die, some of these Falang (even though they may only own a one-story house) manage to find themselves in a condo (6th floor and above) where they apparently decide (usually with a little help from their wife's local husband or friends or family) to also take a lifetime membership of the Pattaya Flying Club. Naturally the police here are most understanding and class all such cases as "suicide".
I have loads of pictures of members of the Pattaya Fling Club, but will spare you these in the interests of decency.
Whoops – I've just realised, my condo is on the sixth floor. If I ever join the Pattaya Flying Club, please note this is not out of choice.