When we read the Money sections of our weekend newspapers, I think most of us hope we getting reasonably impartial reporting. We don't expect that some of the supposed "articles" are actually written by scumbags just trying to sell us something while pretending to be journalists.
However, one personal finance journalist recently admitted "Personal finance is almost as corrupt. …Financial institutions and PR companies target millions of pounds from marketing budgets at a few dozen business journalists, and almost anything goes. Some journalists boast of lifestyles that are little more than perpetual junkets."
But rather than throwing around possibly unfounded accusations, let's look at a specific example – the Sunday Times "Money" section from Sunday 23 June.
On the front page, there was an article which ended by recommending readers put their money in a unit trust run by a massive firm called Neptune. Coincidentally, just a few centimetres away, there was a nice big expensive ad for funds run by, you guessed it, Neptune.
Then on Page 3 there was another article, this time proposing readers put their money in a unit trust run by a massive firm called Jupiter. Yup, coincidentally a few centimetres away there was a big expensive ad promoting funds run by, you guessed it again, Jupiter. (Though it might have been the other way round. Unfortunately someone threw away my copy)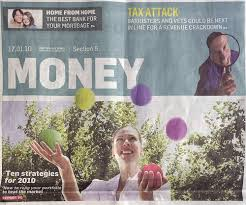 There are over 6,000 unit trusts marketed by over 100 unit trust companies, so if Sunday Times "journalists" were genuinely unbiased, the chances of them recommending precisely the products sold by their biggest advertisers would be pretty low.
In my experience, while researching my book PILLAGED How they're looting £413m a day from your savings and pensions, Daily Mail personal finance journalists are really very good and genuinely try to serve their customers rather than the firms who put the most advertising in their newspaper. But time and time and time and again, I've found that supposed "journalists" at the Sunday Times have a tendency to recommend the products by the companies which place advertising in the "Money" section.
So, if you ever get the chance to be invited to the champagne-quaffing, caviar-guzzling VIP sections at Wimbledon or Royal Ascot or a Chelsea football game, don't be surprised if there's a journalist from the Sunday Times "Money" section there living the high-life paid for by the companies that advertise in the Sunday Times and whose products that "journalist" ends up recommending to unwitting readers.