Most people probably know that our MPs are pressuring the inappropriately-named Independent Parliamentary Standards Authority (IPSA) to recommend they get a pay rise from £65,738 to somewhere around £86,500. And most people probably know that almost all our MPs are fiddling their expenses (at the time of the expenses scandal over 95% of MPs voted to keep their expenses secret).
Probably fewer people know that MPs pushed IPSA into increasing the amount they get to pay staff from £115,000 to £137,200 (and £144,000 for London MPs) at least £30,000 to £40,000 of which usually ends up in the pockets of a member of family, partner or friend.
So successful have our MPs been in watering down IPSA's rules and increasing their own allowances that in the year before the 2010 election they claimed about £130m in expenses, yet last year this had shot up to nearer £150m – about £30,000 per MP more than before the expenses scandal broke.
But MPs have another scam for getting rich at our expense – a truly incredible 90 MPs are supposedly "government ministers". With 362 MPs in the Coalition, about one in four is a minister, giving Britain over twice as many ministers as Germany, Italy, Spain or France (see chart)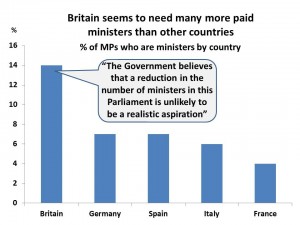 Why so many ministers? Because it gives MPs (and some Lords) real salaries of from £89,435 (33 parliamentary secretaries) to £92,000 (20 whips) to £98,740 (29 ministers of state) to £134,565 (21 cabinet ministers) (see chart)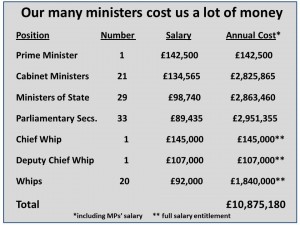 Top civil servants have been known to complain that they can't find enough things for all these ministers to do. One parliamentary committee wrote a rapidly-buried report "What do ministers do?" recommending a cut in the number of paid ministers.
Then, of course, MPs have so much time on their hands that many have second, third and even fourth jobs earning them hundreds of thousands of pounds over and above their generous salaries and even more generous expenses.
Given that the EU now makes most of our laws and our MPs have very little to do, we don't need 650 MPs any more – about 200 would be quite enough. The US Congress, for example, has just 435 members for over 250 million people. All in all, our MPs are doing pretty well getting rich at our expense. So next time you hear them trying to bluff their way to a pay rise, remember that they are largely unnecessary and are already pocketing much more than most of them are worth.