One of this week's big stories is the £10.5m fine the normally supine Ofgem has imposed on energy company SSE for mis-selling. In fact SSE were defrauding customers which is a criminal offence. So are our police doing anything?  Ha-ha-ha-ha. We're as likely to see Sir David Nicholson prosecuted for the manslaughter of 1,200 people as we are to see the police ever act against an energy company committing mass fraud.
But does this fine mean that Ofgem are starting to do what they're paid so much to do? Ofgem's mission statement is "Protecting consumers is Ofgem's first priority. We do this by promoting effective competition". Really? Here's a chart showing the trend in retail gas prices (what you and I pay) compared to wholesale gas prices (what the energy companies pay).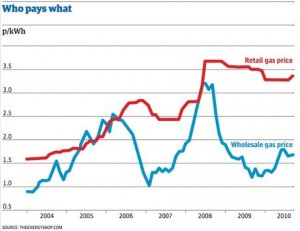 Ofgem don't seem to have noticed that when wholesale prices go up, retail prices go up and when wholesale prices go down, retail prices go up.
As for the £10.5m fine – it looks impressive at first sight. But SSE made profits of £1.3bn last year after raising prices for its 9.6 million customers by a massive 18%. So the fine represents 0.8% of SSE's profits and can be written off against corporation tax. It will hardly be noticed by SSE's multimillionaire bosses.
For our energy companies, Ofgem is not an independent watchdog, it's an impotent, toothless lapdog. Since 2006-7, the useless UK regulator Ofgem's budget increased from £18.6m to £32.6m and yet due to Ofgem's pathetic efforts, the UK is one of the most profitable energy markets in the world. Our often foreign-owned energy companies make four to five times as much profit in the UK than they are allowed to make in their properly regulated home markets.
Meanwhile, in this exceptionally long and cold winter, it's estimated that around 30,000 old people will die prematurely from conditions linked to the cold, because they can no longer afford to heat their homes properly.
Just a small correction. A reader has contacted me to inform me that "this government has certainly contributed to those estimated number of deaths by reducing the heating allowance for 85's and over by £100 in November, 2011". So it seems that thanks to the uselessness of Ofgem, government cuts and the excellent efforts of Sir David Nicholson, we'll get rid of lots of useless, expensive old people and have lots and lots more money to give to the one to two million Romanians and Bulgarians who'll soon be moving to Britain. Yippee!