Wednesday/Thursday blog
First a couple of unconnected comments:
1. Excellent that COP was a flop
Thank goodness Cop26 was a total flop. There's an easy way to know it was a flop. Had it been a success, our priapic PM, Bunter Johnson, would have grabbed the first private jet he could find so he could puff up his ego by giving a speech on the last day of the Glasgow hot-air bletherfest claiming all the credit for himself. The fact that Bunter stayed away to let hapless Alok Sharma take the blame, shows that Bunter didn't want to touch the putrid Cop26 mess with even an extended bargepole.
Still, Sharma will probably be shunted off to the Lords to join all the other failed politicians there and the businesspeople who stuffed a few million into Tory Party and Labour Party bank accounts. So, for Sharma the whole flatulent CO2- and hypocrisy-belching fiasco will be a pretty lucrative career move.
I wonder if Sharma is stupid enough to believe all the climate catastrophist nonsense? Or has he just eagerly jumped on the bandwagon to further his career, fill his own pockets and boost his sense of self-importance?
As for us long-suffering plebs, we can expect that our useless government will double down on its 'green ambitions' and impoverish us all in order to show that "Britain leads the world in cutting CO2 emissions"
2. It's not cricket
Yesterday there was much bleating, moaning and howling about supposed racism in cricket – a sport in which I have not the slightest interest. But I did briefly check on the gentleman making all the accusations of supposed 'racism' and 'humiliation' and 'bullying' and 'inhuman treatment'. According the ever reliable Wikipedia, this fine chap played for Yorkshire between 2008 and 2014 and then again between 2016 to 2018.
If he was really subject to racism and bullying and inhuman treatment, why did he stay at Yorkshire so long? And why did he go back to Yorkshire in 2016?
Sorry, Mr Cricketer, I don't believe your sob stories. Your stories of racism and suffering are (in my humble opinion) about as credible as those of the ghastly Meghan.
And then there's the larger question: if we Brits really are such appalling racists as the BBC and C4 News repeatedly claim, why are 1,000+ pieces of Third-world garbage being shipped from French beaches to the UK by Priti 'pretty useless' Patel's worthless Border Farce every day? If we were so racist, you'd think that all our Third-world friends would be queuing up at Dover attempting to escape Klu Klux Clan UK
Anyway, on to the subject of today's blog
BBC's Children in Need is back to pick our pockets
You've probably noticed that the BBC's Children in Need is back this week. I don't watch it, but I believe it features a bunch of z-list celebs doing supposedly 'hilarious' things to try to revive their flagging careers under the guise of raising money for charity.
I briefly looked at the employee costs of BBC Children in Need employees compared to a few other supposed 'charities':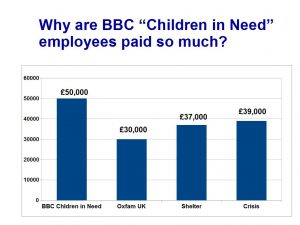 The cost per employee (salary, pension and social costs) at the BBC's Children in Need is around £50,000. This compares to around £30,000 at Oxfam UK, £37,000 at Shelter and £39,000 at Crisis.
Some employees at charities like Shelter and Crisis probably have to deal with some difficult situations trying to help homeless drug addicts, alcoholics and people with mental problems. But I believe that all the employees at the BBC's Children in Need have a rather less onerous life sitting around in comfortable offices each day organising the 'hilarious' show and deciding which charities will get our money.
So I struggle slightly to understand why employees at the BBC's Children in Need are paid so much. The only explanation I can think of is that anyone employed by any organisation in any way connected with the BBC will always be hugely overpaid.
The other thought I had was: why do we need two huge charities like Shelter and Crisis to help the homeless? If we knocked these two charities together, we could probably save £10,000,000 or so which might be better spent on the homeless than on duplicating executives and marketing managers and financial controllers and others of their ilk.