(Wednesday/ Thursday blog)
You can't expect Einsteinian insights from a 600- to 700-word blog (with pictures for the hard-of-understanding) written at 05.00 in the morning. But I think I'm beginning to understand how our rulers allowed our economy to be trashed by the Xi Pingpong's Wuhan flu and what to do about it now.
That was then…..
If you go back to the start of the Chinese plague, you'll remember the images of thousands dying in hospital corridors and makeshift wards in Italy and Spain as their health services were overwhelmed by a tsunami of Chinese flu sufferers:
And there were lots of dead people:
Our politicians clearly couldn't allow this situation to happen in the UK. So, as our (possibly scientifically-challenged) media started howling about the need for more hospital beds and more ventilators, our politicians were panicked into splashing £500m+ on ventilators (that were never necessary) and billions more on the new Nightingale hospitals (that were never needed):
However, despite our panicking politicians doing everything the screaming media mob demanded, the UK's Chinese plague deaths (62 per 100,000 of population) ended up being just slightly lower than Spain (67 per 100,000) and higher than those of countries like Italy (59 per 100,000) and France (48.5 per 100,000):
Clearly the measures taken by our panicked politicians to appease the mouth-frothing media mob were as much use as the proverbial chocolate teapot. If I remember correctly, two of the most vociferous members of  the slavering (but ludicrously ill-informed?) media mob were a certain Robert Peston from ITV and Beth Somebody from Sky News.
This is now…..
Since then we have learnt a lot. Though I also suspect the howling media mob have learnt nothing.
For example, we now know that over half of Kong Flu patients put on ventilators die. So, thousands of hastily-produced ventilators weren't such a great idea after all. We are also beginning to understand which medications can reduce the severity of infections and thus dramatically reduce death rates. And perhaps most importantly, we now know which age groups (the elderly) and which groups of people (the obese and those with comorbidities) will be worst affected.
As schools and universities are opened and as we move into the winter flu season, it is to be expected that the number of Chinese flu infections will shoot up: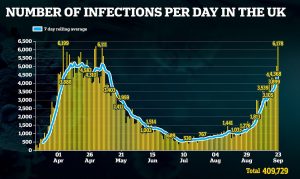 But, as these infections are mainly among the young, death rates have remained extremely low:
In fact, I suspect that death rates from Xi Pingpong's Wuhan lab plague aren't much higher than the usual seasonal respiratory disease death rates.
When the facts change…….
That brings us to Mr Keynes's much quoted and misquoted: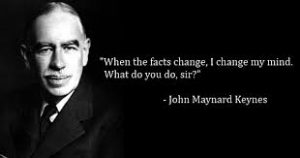 The facts about Xi's Chinese plague have now changed. We now know who will die from Xi's plague: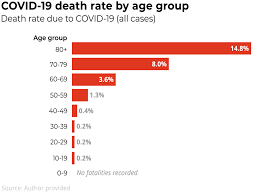 We also know ventilators are virtually a death sentence and so fewer people are being put on them:
And we now know that the way forward is medication – preferably used as early as possible during infection as was done with Donald Trump: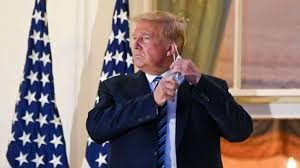 Are we now ready for 'herd immunity'?
So, while we knew little to nothing about Xi's plague at the start, lockdowns were an understandable reaction by scientifically-challenged politicians terrified by the scenes of chaos in Spanish and Italian hospitals and by projections of half a million UK deaths by the world-famous bonking boffin from Imperial College.
But with our new level of knowledge, it is total madness to be closing down the economy again. Instead we should be opening it up as fast as possible to save jobs and livelihoods while protecting the vulnerable and allowing herd immunity to develop among those who will have few if any harmful consequences from Xi's plague.
Here's the inimitable Tony Heller. I think he's too harsh on politicians when he criticises their original decisions to go for lockdowns. I explain why above – the sight of the chaos and huge numbers of deaths in overwhelmed hospitals in Italy and Spain. But I believe he's absolutely right to claim that now we should be going for herd immunity rather than cowering in our homes in fear of something that (for 99% of us) won't be any worse than a seasonal flu:
But I also think our politicians are trapped by their own need to prove they are infallible. If they now dared to tell us that the policy should be changed from lockdown to herd immunity (remember Mr Keynes talking about when facts change?), they're terrified that they will be lambasted getting it wrong with their original lockdown strategy. And so they continue on the road to economic self-destruction.