(Monday blog)
Could Trump be right and the BBC wrong?
Every day at the Downing Street briefing we're shown a chart of Covid-19 plague deaths by country. (I realise this chart is fairly unreadable, but I'm sure you'll recognise it):
(With previous versions of WordPress, you could click on the image and that would enlarge it. That no longer seems to be the case. One reader has helpfully suggested an incredibly complicated way I could possibly restore this function. But it's far too complicated for me)
From this chart, it looks like Britain is following roughly the same path in deaths as France, Italy and Spain, whereas, under Donald Trump, the USA is a total disaster.
But when you redo the chart in deaths per million of population, the situation looks quite different: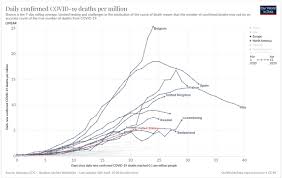 Here's the data in a more readable form: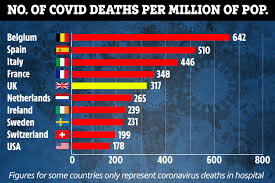 A couple of things to notice:
Multi-culturally enriched Belgium is really the worst disaster zone – not the USA. The BBC never mentions Belgium's Covid-19 mess as the EU is based in Brussels and the BBC never criticises anything connected with their beloved EU
The USA actually has fewer deaths per million of population than Sweden. Yet we're constantly told by the BBC and C4 News how well Sweden is managing the Chinese plague and that President Trump is an idiot who has totally mismanaged his country's response to the Chinese Covid-19 plague.
And yesterday evening the BBC were at it again – quoting the huge number of Covid-19 deaths in the USA and ridiculing Trump for talking about getting America back to work. Yet at the same time, the BBC is breathlessly and admiringly reporting how countries like Italy and Spain are easing their lockdowns. The BBC never mentions that both these countries have more than twice the number of deaths per million than the USA.
Vaccine venom – BBC attacks Trump (yet again and again)
On this morning's BBC news, the lying BBC were at it again – ridiculing Trump. This time it was over Trump's claim that a vaccine would be available by the end of the year. To discredit Trump the BBC claimed that White House medical experts had contradicted the president.
But while mocking Trump's claim about a vaccine, the BBC seems to have forgotten its own gushing reports about a vaccine being developed in Oxford going into trials last week and possibly being ready by the end of the year.
Sarah Gilbert, professor of vaccinology at Oxford University, told the mainstream media last month she was "80 per cent confident" that the vaccine being developed by her team would work and could be ready by as soon as September. At that time, the BBC were grovellingly gushing with praise for her team's efforts. But when the hated Trump makes the same claim, the BBC immediately attacks him and mocks him.
BBC – lying, biased, West-hating scum. It's time to scrap the licence fee and let the BBC sink or swim.
Was the economic suicide necessary?
One key thing to notice from the deaths per million figures is that Sweden has fewer deaths per million than many other developed countries and yet has managed to avoid destroying its economy by imposing the kind of lockdown they have in the USA or we have in the UK. While large gatherings are banned in Sweden, schools, bars and restaurants have remained open. Of course, I realise there are many reasons for this – lower population density, more people already living alone, better healthcare system and so on.
But a cynic could start to wonder whether the drastic, economy-shattering, recession-causing lockdown we've had in the UK was really necessary. A cynic could even question whether the lockdown could have been much more targeted to avoid the massive life-destroying unemployment we're about to experience. For example, maybe we could have focused Britain's response at protecting the most vulnerable – the elderly and those with comorbidities – while doing everything possible to preserve normal functioning life for those at less risk? In particular, maybe we could have kept schools open allowing millions of parents to stay in work? After all, children are hardly affected by the Chinese Covid-19 plague.
Boris's brown trousers moment
I absolutely understand that the sight of thousands dying in hospital corridors in Italy and Spain due to lack of space, medical staff and equipment panicked our Tory Government into possibly over-reacting. The Tories' greatest political vulnerability is the perception that they are enemies of and have underfunded the NHS. Moreover, the Government had the recidivist doom-monger and habitually-wrong Professor Neil Ferguson at Imperial College predicting utter disaster – 250,000 or 500,000 deaths or whatever without a lockdown. Hence our Government had a major 'brown-trousers without bicycle clips' reaction and trashed the economy to avoid an Italy or Spain scenario.
Anyway, perhaps the lockdown in the UK was made necessary by the Government's dithering and delay which allowed the Chinese plague to become widespread? Moreover, the Government's desperate rush to empty hospitals by shunting many elderly patients off to care homes without doing any Covid-19 testing has turned out to be little short of catastrophic.
But here, providing another perspective to the mainstream media narrative, is the inimitable Tony Heller explaining that our rulers may have made rather a baddish sort of mistake by trashing our economies: