(Friday blog)
With all the heat and noise being generated over Treacherous Theresa's Brexit supposed 'deal', I could hardly expect to add anything to the fury, anger, ignorance and chaos.
There seem to be a few incontrovertible facts:
we got totally screwed by the EU because we had worthless, UK-hating, Europhiliac, Remoaner bureaucrats pretending to negotiate while actually surrendering at every opportunity
our two so-called "Brexit secretaries" – David Davis and Dominic Raab – were hardly involved at all in the process – instead they were just front-men while the bureaucrats cobbled together our capitulation
human slime like Blair, Clegg and others kept encouraging Brussels to face down the British demands in order to force us into this humiliating capitulation or even to remain shackled to the EU
the EU has done everything it can to cripple us economically to ensure that Brexit is a failure so that other countries won't be tempted to follow us out of the EU
having humiliated us and won so much, the EU sees no need to make any compromises now and Germany in particular is relishing its victory over us and its ability to humiliate us
One could go on, but I imagine most readers understand our situation much better than I.
The key issue now is how best to move forward. In business or economics there's the idea of 'sunk costs' – that you shouldn't let costs that have been incurred in the past influence future decision-making.
When making business decisions, organizations should only consider relevant costs, which include the future costs and revenue of one choice compared with another. To make an informed decision, a business only considers the costs and revenue that will change as a result of the decision; sunk costs do not change because they have already been incurred and cannot be recouped so should not be considered: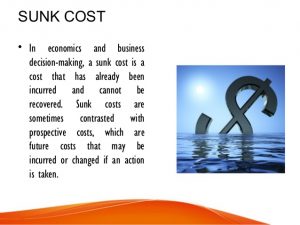 With the Brexit situation, there's no point bleating about sunk costs – what happened in the past:
May's disastrous general election decision losing her parliamentary majority
how Berlin's stooge, Martin Selmayr, has out-negotiated the civil-service scum that were supposed to represent Britain's interests
how the Tory Government has wasted the last two years fighting among itself rather than working together to try to get a decent deal for Britain
But we are where we are and nothing can change that.
So, looking forward, we should be considering only what costs and benefits can be achieved by different options taking our current position as a starting point – getting rid of May; parliament voting down May's deal; leaving on World Trade Organisation terms; trying to renegotiate with the EU under a new Tory leader etc.
The ideal situation would be for the Tories to dump May, put in an interim Brexiteer leader without a leadership battle, go back to Brussels, explain May's 'deal' is unacceptable and get something better.
But is that going to happen? Given two years of Britain being betrayed by the elitist Remainer ruling classes, is Brussels going to give any concessions now? I doubt it. Why would a victor give concessions to a loser?
Therefore, personally I believe we should swallow May's capitulation, leave the EU next March and make the best of an extremely bad job. What could have been achieved has not been achieved because we have been betrayed by our own ruling elites. Britain has been in worse position in the past and has always succeeded due to the innovative culture and energy of its citizens. The past is a sunk cost and should not influence future decision-making.
I think we have to accept that we're in a dreadful situation and just get on with it. Or, as a lovely blond young lady once said to me many (too many?) years ago "Forget the foreplay, shove it in!"
I suspect most readers will see this as defeatist and will disagree with me.