It's been a pretty busy week for multi-cultural enrichment.
We had the 15-year-old Brimingham girl raped by an "Asian" and then raped by another "Asian" who stopped his car and pretended to help her. Well, there was me patrolling the streets of Birmingham looking for two "Asian" rapists assuming they were both Chinese or Japanese or Thai or Filipino men. After all, most "Asians" are Chinese or Japanese or Thai or Filipino. Can you imagine my shock when the Birmingham police issued CCTV images of the two suspects?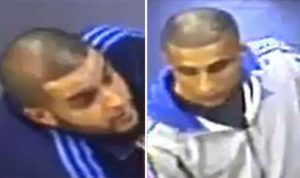 They weren't Chinese or Japanese or Thai or Filipino after all. They look more like Pakistani Moozerlums. Who would have thunk it!!!
In Liverpool a gang of three "Asian" men were sentenced to a few weeks in prison for rampaging through the city centre beating to a pulp anyone who wasn't a Moozerlum. And would you believe it, these three "Asians" don't look like they're Chinese or Japanese or Thai or Filipino either?
They also look rather like Pakistani Moozerlums. Once again, you could have knocked me down with a feather.
And in London we had the usual race riots over the death of what appears to be a worthless drug-dealer and we will no doubt soon be told that this probable low-life was a "popular member of the community" who "loved his mum" and was a "great dad".
In Sweden there was a gang rape by between 5 and 8 Afghan 'asylum-seekers' on a mother of two children. Most of the sperm recovered by the police was in the woman's anus and alimentary canal. I don't supposed she'll be going on any "Rapefugees Welcome" marches in the near future. But who knows? Once (if) she can walk again, being Swedish and thus brainwashed into abject, politically-correct stupidity, she'll probably blame right-wing racism and discrimination against rapefugees for her attack and continue to enthusiastically vote for hug-a-rapemigrant politicians.
In Australia, a leading Moozerlum has boasted that, with a new report claiming the sperm count of Western men is falling, then only by mating with fertile Mozzerlum men (voluntarily or through rape) can the human population be maintained.
And in Germany, a man screaming something like "I love my snackbar!" rushed into a supermarket and started stabbing people. There's one dead, a few injured and the police have announced as usual "We have no clear information as to the motive".
Germany losing yet another war?
Anyway, on to the main message of this weekend's blog. Our German friends seem to have a repetitive pattern of behaviour. They cause total chaos trying to impose their rule on the rest of Europe and then are surprised when they end up as the losers. We saw this in World War 1 and World War 2. And now we're seeing it in the great Moozerlum invasion.
Here's a lovely short video in which some of Merkel's migrant invaders describe how they are taking over Germany from the inside and how the Germans don't have the courage or willpower to defend their country.
I don't care about Merkel's invading millions beating the sh*t out of stupid, Merkel-voting Krauts and Nazis and raping their wives and daughters. The stupid, testicle-free Germans just getting what they voted for.
The problem, as usual, is that Germans will export their self-inflicted chaos onto the rest of Europe. At the moment all we're seeing is violence against Western men and the rape of tens of thousands of Western women and girls. But the real disaster will come in 10 or 20 years when millions are slaughtered in the coming European civil wars.
Once again, arrogant Germany will have unleashed Armageddon on its European neighbours: