That didn't take long, did it?
Just a couple of days into the floods ministers announced a full review of Britain's storm defences yesterday as they blamed global warming for the recent heavy rainfall.
Liz Truss, the environment secretary, told MPs that Storm Desmond and the floods in Cumbria were consistent with climate change and the government's predictions for future flooding would now have to be updated. Moreover, some crappy 'Oxford academic' jumped on the Warmie bandwagon claiming "the government had been warned five years ago of the risk of higher rainfall in the area possibly created by climate change".
Of course, this is all total bollox designed to give the Government and the 'experts' more control over us and more excuses to tax us to supposedly 'save the planet'.
But how do I know? After all, I'm no climate scientist. Two reasons:
1. The Earth hasn't warmed
Over the last 19 years, CO2 and other 'greenhouse gas' emissions have been higher than ever before in human history, yet the Earth hasn't warmed at all. If there was a direct causal effect between CO2 emissions and temperature, this would be impossible: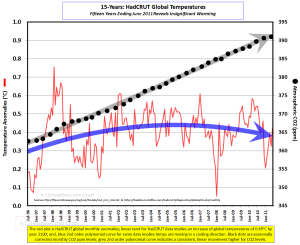 (The dotted line is CO2 emissions and the purple arrow is temperature)
2. The Greenies have completely changed their story (as usual)
The picture below features Dame Julia Slingo. She's quite an important lady in all our lives. She's the chief scientist at the Met Office. So she has huge influence over government policies regarding Global Warming or Climate Change or whatever it is called this week. Everything from ever-increasing green taxes, windfarms, solar farms, prematurely closing down perfectly good coal-fired power stations, subsidies for "green energy" which are forcing up our power bills and leading to energy-intensive industries closing down in Britain losing thousands of jobs – all this can be traced back to people like the lovely and obviously highly-qualified Dame Julia.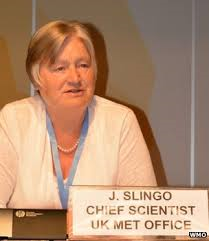 I imagine Professor Slingo must hope we have rather short memories.
On 13th March 2012, Julia Slingo told MPs that the low winter rainfall this country was experiencing was caused by climate change. A newspaper reported: "Slingo told the MPs that there is "increasing evidence in the last few months of that depletion of ice, in particular in the Bering and Kara seas, can plausibly impact on our winter weather and lead to colder winters over northern Europe".
She added that more cold winters mean less water, and could exacerbate future droughts. "The replenishment of aquifers generally happens in winter and spring … a wet summer does not replenish aquifers. So we are concerned if we have a sequence of cold winters that could be much more damaging," she told the committee.
Right. You all understand what Dame Julia is saying? Climate change is leading to drier winters.
Now spool forward two years. Here's a newspaper report from 2014:
"Speaking ahead of the release of a government report on Britain's unusually stormy winter weather, the Met Office's chief scientist, Dame Julia Slingo said on Sunday that the U.K. had seen the "most exceptional period of rainfall in 248 years"and called the extreme weather "consistent with climate change".
"All the evidence suggests there is a link to climate change," she said. "There is no evidence to counter the basic premise that a warmer world will lead to more intense daily and hourly rain events."
Right. Got that? Two years later Dame Julia is saying that Global Warming will lead to wetter winters. Yet in 2012 Dame Julia said the exact opposite. Hummph.
Changing the language
But the Greenies are very clever, When the weather does the opposite of what they have predicted, they just change their language. For years we were warned about 'Global Warming'. When that didn't happen, the Greenies changed the threat to 'Climate Change'. And now, when the Greenies predicted drier winters, they've changed the language again from 'drier winters' to 'extreme weather events'. So, whether it's hot or cold, wet or dry, windy or calm, the Greenies can jump up and down screaming 'Climate Change' and 'extreme weather events'. And the mainstream media will probably take them seriously.
But as one newspaper reader wrote "It is increasingly clear that climate change scientist is an oxymoron.  No more scientific work gets done in the climate change department of a university than in the school of Druidic studies."