Apparently, after each performance of his sell-out Hamlet, that great thespian and political expert, Benedict Cumberbatch, harangues his audience demanding the British Government takes in more 'Syrian refugees'.
Well Benedict old chap, continental Europe did take in lots of 'Syrian refugees' and at least two of them seem to be responsible for the Paris massacre. So, how do you and your progressive leftie friends feel about that, Benedict? Oh, none of you give a damn? No, I thought not.
For months we've been lectured by the holier-than-thou, attention-seeking, self-righteous – Cumberbatch, Geldorf, Chakrabarti, Alibhai-Brown and many others of their ilk – that we have a duty to allow millions of medieval, violent, intolerant Third-World scum into Europe. Well, Paris showed us the result of that idea. What will the self-righteous say now?
Oh, I know. They'll say it's our fault. They'll say we should have been better at integrating the M*sl*m hordes. They'll say we're responsible for what happened in Paris.
But these are the people responsible:
The real Paris murderers are our rulers who are encouraging an *sl*mic invasion so they can wipe out any sense of Europe's nation states and force us into their nightmare of a United States of Europe governed by corrupt, unelected, wasteful, self-serving bureaucratic elites.
During the Cold War, the USSR had its 'useful idiots' (many in the Labour Party).  The term 'useful idiot' is thought to have been coined by  Vladimir Lenin. It describes naive communist sympathizers in the West. While Lenin and the Soviets held these stupid 'useful idiots' in utter contempt, they also saw them as useful tools for dispensing propaganda.
During Stalin's massacres of his own people, one of his most useful 'useful idiots' was, of course, the treacherous coward Ralph Miliband (Ed Miliband's father).
Now the Religion of Peace has its 'useful idiots' – the Cumberbatches and Geldorfs and Jon Snows and Kathy Newmans and Krishnan Guru-Murphies – who pompously and self-righteously brand anyone worrying about the *sl*mification of Europe as being 'xenophobes' and 'racists'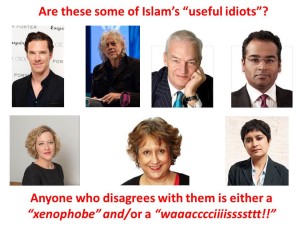 And still, after the Paris massacre, they're trying to fool us with their lies. The BBC has claimed that the 'vast majority of French M*sl*ms are well-integrated'. I humbly suggest the BBC reporters visit the vast, filthy, cesspit, Third-World *sl*mic slums surrounding almost every major French city.
And Channel 4 claims that the problem is '*sl*mic extremism'. Really? When over half of French and British M*sl*ms supported the murder of the Charlie Hebdo cartoonists!
We are at war – not with *sl*mic extremism, but with mainstream *sl*m. But our leaders can't admit this as this would lead to riots and social disorder across Europe. So, our leaders put on stern faces and promise that everything will be done to 'root out the scourge of *sl*mic extremism' while doing nothing apart from allowing the invading M*sl*m armies to continue pouring into Europe. Meanwhile anyone who dares question the death cult masquerading as a religion is prosecuted for inciting racial hatred.
When civil war does break out in Europe, whose side will the authorities take? Will they protect what's left of the indigenous population? Or will they protect the M*sl*m invaders? Having seen video of the German police clubbing ordinary German citizens protesting about a migrant takeover of their small town while the Germans shout "why don't you just shoot us? You're destroying our country anyway", I fear it will be the latter.