Sainsbury's have just announced they're halving the number of Nectar points you get for shopping in their stores. You'll now need to spend a hefty £500 to get just £2.50 of vouchers – equivalent to a discount of 0.5% as a 'reward' for your loyalty.
That may not be great value. But at least, when you spend your £500 in Sainsbury's, you know you will always get something in return for your loyalty. Similarly with the loyalty schemes at Waitrose and M&S. You know that there will be some reward – however paltry – for your continued custom.
But what about the airlines' "Airmiles" schemes. Do we ever get anything back from them when we faithfully choose the airline with which we have a card? In the 1990s, I used to fly twice a week and so accumulated and used a fair number of airmiles. And many schemes still seem attractive allowing customers to accumulate impressive-looking tens of thousands (and even hundreds of thousands) of airmiles.
But a lot of airlines have tightened up their rules making them considerably less generous than they used to be. So, I suspect we are now being right royally conned and most of us will find that we get nothing at all back for the tens of thousands of airmiles we have carefully built up.
I have tried, and failed, to use my airmiles with three airlines recently:
1. BA – having been on a round-the-world trip with BA/Quantas, my wife and I had earned sufficient BA airmiles (or Avios points or whatever they're called this week) for a return trip to Europe.
But  when I tried booking a "free" return flight to Nice, after the usual almost interminable wait (15+ minutes listening to dreadful music and being told my call "was important" and "will be answered as soon as possible") I found out that my "free" BA flight from Gatwick to Nice was more expensive than flying with EasyJet. The reason – while BA gave my wife and I a "free" flight for our airmiles, the supposed taxes that I had to pay were more than the full price ticket with EasyJet (including taxes).
When I asked BA how their supposedly "free" flight could be more expensive than EasyJet's ticket, I was first told that EasyJet didn't fly from Gatwick – I pointed out that this was untrue. Then I was told if I had a complaint I should contact the BA complaints department and the BA employee put the phone down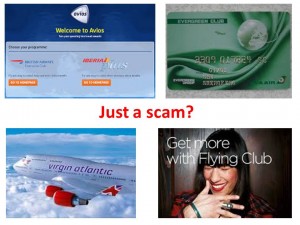 2. EVA – I have just tried to book upgrades from economy to premium economy (what EVA calls its "Elite" class) for my wife and I to the Far East with Taiwanese airline EVA Air using their airmiles loyalty scheme . What I found was that if we wanted to use our EVA airmiles, we had to buy full-price, relatively expensive economy class tickets and then use a pretty stunning 25,000 airmiles each way per person for the upgrade – 100,000 airmiles in all. However, the full price economy ticket was more expensive than the EVA "Elite" class ticket I could buy from companies like TrailFinders, Dial-a-Flight and Flight Centre. So, for getting an upgrade, the EVA airmiles were more than useless and little short of a complete con
3. Virgin – if I remember correctly, a few years ago I tried to use our Virgin airmiles for my wife and I to get an upgrade from economy to premium economy and we encountered the same problem as with EVA. To use Virgin's airmiles for an upgrade, we had to buy expensive full-price economy class tickets direct from Virgin. And these were much more expensive than the discounted tickets we could get from the main travel agents.
Conclusion – I suspect that if you are a regular business traveller who can accumulate hundreds of thousands of airmiles, then you can get some long-haul tickets that are cheaper than tickets from the likes of TrailFinders. However, if you only travel a few times a year and just get sufficient airmiles for a possible "upgrade", then I suspect your airmiles are next to useless and you've been scammed by the airline.
(by the way – a couple of days ago, I wrote a piece showing how many of the problems in the NHS with access to GPs and A&E waiting times were due to the dreadful new contracts with GPs that New Labour agreed with the BMA in 2004, reducing GP working hours while giving them a 60% pay rise. So, I was pleased to hear in Labour's election broadcast the day after the claim "they can't go to their GP so they end up going to A&E". Yup. Pity Labour forgot to mention that Labour are mostly responsible for people not being able to see a GP)