The state of Israel was founded in May 1948. So it has existed for just 66 years. But will it survive for another 66 years?
If we think forward to what Britain will be like in 50 to 60 years, I imagine the most likely scenario is that the UK will no longer exist, Scotland and Wales will be independent countries and all of the former UK will just be an administrative unit of a massive EU superstate run by a corrupt, wasteful, self-serving, hereditary, unelected bureaucratic elite. Moreover, in most cities in the former Britain the majority will be immigrants and their children and many cities will be majority M*sl*m, while many ethnic Brits will have moved out of our ghetto cities to escape the foreign invasion. But at least out in the countryside there will still be signs of the former UK.
But what about Israelis? What will happen to their country in the next 50 to 60 years? Will it exist at all?
Here are just five reasons why I believe the state of Israel will have disappeared within this century:
1. Demographics – the population of Israel is around 8 million. This includes 6 million Jews, 1.7 million Arabs and about 300,000 others. Moreover, hundreds of thousands of supposed Jews are not really Jewish. They're immigrants from the former Soviet Union and its satellite countries who claimed to be Jewish to escape communist repression. So they have no loyalty to a Jewish state.
Within 50 years there will 4 million Arabs. Soon it will not be long before Israeli Arabs outnumber Israeli Jews.
But, of course, the biggest threat comes from the Arabs in the countries surrounding Israel. In 1970, there were 128 million Arabs. Today this has risen to 366 million, by 2050 there will be about 600 million.
A few Arabs (those in the oil- and gas-rich Gulf States) will live well. But the vast majority will live in unemployed squalor due to their own backwardness, laziness and stupidity and the greed, venality and incompetence of their leaders. However, Arab leaders have managed an incredible achievement. Using their death-cult religion, they have managed to convince the ignorant masses that all their overcrowded, fetid, impoverished squalor is due only to the baleful existence of the supposed 'Israeli Zionists' inhabiting a tiny, insignificant strip of land.
Israel will soon be hated by close to 600 million enemies. If just one per cent of those people take up arms against Israel, the Jewish state is toast
2. It's surrounded by its enemies – if you look at a map of the Arab world (countries in green) you can hardly see Israel. Any military leader looking at this map could only come to one conclusion. The tiny strip of land that is Israel cannot be defended. At some point it will be overwhelmed: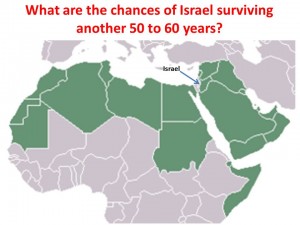 3. It's a success – within a few decades, using hard work, ingenuity and ambition, the Israelis have turned their sliver of land in to an agricultural and industrial success story. They have been especially successful in pharmaceuticals, IT and military products (for obvious reasons). At the same time, most Arab countries have stagnated or even gone backwards consigning their people to an excrement-covered poverty. Israel shows that you don't need oil and gas wealth to create a good life for your people. Israel shows what Arabs could have achieved if they weren't so idle, stupid, ignorant, corrupt and medieval-minded. That's why the Arabs loathe Israel. The Arabs want to portray themselves as victims so they can steal billions in foreign aid. But Israel shows the Arabs are only victims of their own indolence and worthlessness. All land that has been handed back to Arabs in return for peace has been quickly turned into infertile scrubland. If the Arabs can over-run Israel and reduce this one productive, fertile country to a medieval slum like most Arab countries, then the Arabs can once again portray themselves as victims. That's just another reason they have to destroy Israel – the only beacon of hope in the whole blighted region.
4. Jewish flight – Many Israelis are beginning to see that their existence is under real threat. A recent survey found that 40% of Israeli Jews were considering emigration. This is just a trickle at the moment. But soon it will turn into a flood leaving insufficient resources to defend the country. A tipping point will be reached when there are fewer Jews in Israel than Arabs. Then we will see a terrified Exodus as the Arabs seize their chance and start butchering the remaining Israelis
5. Betrayal by the West – Jews are still hated in most of Western Europe. During WWII, Denmark was the only country that acted to save its Jews from the Germans. The French, Dutch, Belgians, Italians and others enthusiastically assisted the Germans in rounding up their Jews for extermination. As Europe becomes increasingly *sl*mified, its leaders will abandon Israel's Jews to their fate in the hope that this will placate the Arab pressure within and outside their countries. They will hope that if they hand over the Jews to be slaughtered, that will quench the Arabs' blood lust and Europe will be left in peace. They will be badly wrong. When the Israeli Jews have been wiped out, the Arabs will turn their hatred on Europe.
So, if you're thinking of making any long-term property investments, I would humbly suggest that Israel is not the place to put your money.
Sadly Israel is probably doomed. It's not a matter of 'will the Jewish state be destroyed?'- it's just a matter of 'when?'.