I've just started researching and possibly writing a book exposing the massive scandal of Britain's bloated charity industry. Though I'm not sure any publisher will have the courage to publish it as I'm not too complimentary about Britain's hundreds of thousands of bloated, self-serving charities.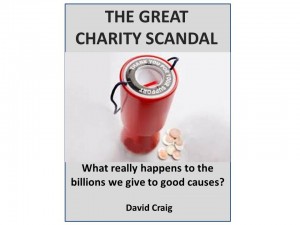 Here's just a little foretaste of the kind of things I've found.
Just in England and Wales, there are 1,939 active charities focused on children; 843 helping the elderly (though some of these are branches of one large charity Age Concern); 581 charities trying to help victims of cancer or else find a cure for cancer; 354 charities for birds; 255 charities for animals and even in a more restricted field like leukaemia we have no fewer than 68 charities all eagerly asking for our money for a good cause.
If there is duplication, triplication, quadruplication and more, then this is probably costing ordinary members of the public surprisingly large amounts of money. For example, all charities with an income of £25,000 and above have to file properly audited financial accounts with the Charity Commission. If it costs an average of just £2,000 to produce a set of audited accounts for the 20,000 or so charities earning between £25,000 and £100,000, say £5,000 each in auditors' fees for the 20,871 charities collecting between £100,000 and £500,000, perhaps £7,000 each for the 8,302 charities picking up between £500,000 and £5 million and £25,000 each for the 1,976 charities with over £5 million a year, then that's £251 million pounds of donors' money just for 'beancounting' how much money the charities collected and how they spent it.
Many charities try to get us to sign up to donating a small sum, maybe £5 or £10 a month. Just to pay the external auditors' fees for the 51,149 charities taking in more than £25,000 a year would require an incredible four million people donating £5 per month or two million generous souls handing over a more substantial £10 per month.
Are we being scammed? Yes we are.
Meanwhile, on the Baroness Warsi front, a reader beat me to it yesterday when he wrote: "Where is her concern for the Christians being slaughtered in Iraq? Where is her condemnation for the two sides of the horror of Syria? Where is her condemnation of Boko Haram and their vile exploits? She is just another self serving politician. In fact she is worse, she is one that has been placed there purely on race and gender. Well good riddance to her, shows that selection on race and gender rather than merit is another PC load of rubbish dragging our country down the EU drain."