(Wednesday/Thursday blog)
Our children won't know what snow is
Some readers might remember a rather famous (infamous?) article on 20 March 2000 in the Independent in which a certain Dr David Viner, a senior research scientist at the climatic research unit (CRU) of the University of East Anglia, predicted that within a few years winter snowfall will become "a very rare and exciting event".
"However, the warming is so far manifesting itself more in winters which are less cold than in much hotter summers. Children just aren't going to know what snow is," he said. "Snowfalls are now just a thing of the past"
Here's a link to the article in the Independent:
https://www.independent.co.uk/environment/snowfalls-are-now-just-a-thing-of-the-past-724017.html
No point clicking on the link as, from what I can see, the article seems to have been disappeared. But you can find it here:
https://web.archive.org/web/20150912124604/http://www.independent.co.uk/environment/snowfalls-are-now-just-a-thing-of-the-past-724017.html
There are also some rather entertaining comments by readers.
In the same article, Dr Viner's predictions were backed up by a few other supposed 'experts' including a certain David Parker, at the Hadley Centre for Climate Prediction and Research in (appropriately named?) Berkshire who was quoted as saying: "ultimately, British children could have only virtual experience of snow. Via the internet, they might wonder at polar scenes – or eventually "feel" virtual cold".
Here's a bit more from the 20 March 2000 Independent article: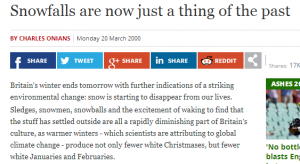 Record skiing seasons?
At the time, many 'experts' were predicting the end of skiing in the Alps as winters became ever warmer due to supposed Global Warming. It does appear that there was some warming in the Alps in the 1990s, but since then, in fact since Dr David Viner's great prediction of warming and no snow, temperatures in the Alps seem to have fallen significantly: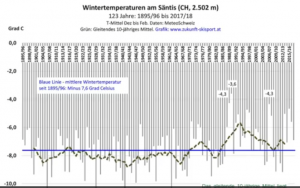 And there have been some record skiing seasons in the Alps – especially 2012/3 and 2018/9.
As for not knowing what snow is – here's this week's weather prediction from the Daily Express:
 'Temperatures across the UK are set to plummet below freezing with an increased threat of snow showers from this evening. According to BBC Weather, the UK will continue to be engulfed by "cold air from Greenland" before a new weather system closes in from the Atlantic later this week. BBC Weather's monthly weather outlook said: "December has started cold and unsettled. Some of us have already seen the first snowfall of this winter, including lowland parts of eastern England.'
Here we go again?
You'd have thought that the 'climate experts' would have been more than slightly chastened by their predictions of no snow being shown to be total crap. But not them. They're back again making the same ludicrous predictions they were making 20 years ago. Here's an article from this week's Guardian on 7 December 2020: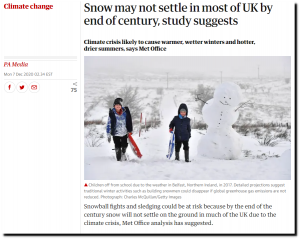 If you look at the text below the headline of the 20 March 2000 Independent article and the 7 December 2020 Guardian article you might see some similarities. Both claim that activities like snowball fights and sledging could soon become impossible due to a lack of snow. In fact, the test from the 20 March 2000 article and the 7 December 2020 article is almost identical.
But there is some good news. Whereas the Independent warned us in March 2000 that within a few years snowfalls would become a thing of the past, the latest prediction from the Guardian quoting Met Office 'experts' now gives us until the end of his century – another 80 years – before "snowfalls become a thing of the past".
Perhaps in 80 years' time the Guardian and the Independent will be confidently predicting that by the end of the next century "snowfalls will become a thing of the past"?
How can anyone take these self-serving idiots and liars seriously?