(Monday/ Tuesday blog)
How many has Xi Pingpong killed so far?
Here he is – the laughing Chinaman. This is the man mostly responsible for covering up the Covid-19 plague and (deliberately?) allowing it to spread around the world while brutally controlling it in China:
And here he is with his obedient sidekick from the utterly corrupt, ludicrously misnamed World Health Organisation: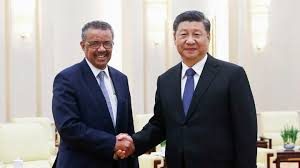 And here he is with the next US president:
So far this (IMHO) murdering, totalitarian scumbag is responsible for 67 million cases of the Wu-Flu of which more than 1.54 million have died. Not bad for a few months work. Though Xi's hero, Mao Tse Tung, is believed to be responsible for the deaths of anywhere between 33 million and 60 million:
So, Xi has a long way to go before he reaches his hero's much more impressive score.
Tip of the iceberg?
But it seems that the 1.54 million deaths may be just the tip of the iceberg. Before Xi's Kung-Flu was unleashed on the world, the World Food Programme had forecast that around 80 million people would be at risk of starvation in 2021. Following the economic destruction caused by Xi's disease and the lockdowns imposed by governments around the world, the World Food Programme has increased its forecast of people at risk of starvation from 80 million to 270 million. That's another 190 million people whose lives will be devastated by China's desperate efforts to cripple the West and become the world's leading economic and military power.
Who is going to pay?
According to the World Food Programme, Xi's disease has cost countries outside China $19 trillion. China's economy has, of course, been booming as China supplies the world with (usually faulty?) PPE and (usually faulty?) Covid-19 testing kits.
So, who is going to pay for all this destruction? Who is going to supply the food for the starving 270 million? Who is going to provide all the foreign aid to help poorer countries recover? And who will pay for vaccines for the billions living in poorer countries?
Corrupt, disease-spreading China will, of course, offer a few countries loans at staggering rates of interest, after bribing corrupt local politicians, in return for giving Chinese companies controlled by the Chinese Communist Party control of strategic ports, airfields, agricultural land, water resources around the world:
And when the recipients of Chinese loans can't repay their debts, the Chinese will take over whatever strategic assets they want. But China doesn't do foreign aid. The Chinese aren't stupid. When China lends out money, it expects its pound of flesh in return.
That just leaves us in the West
So prepare yourselves for a tsunami of virtue-signalling by our holier-than-thou elites demanding that it's the West's moral and humanitarian duty to:
increase foreign aid to help the starving millions
make it easier for supposed "refugees" (actually mostly parasitical, mostly uneducated, mostly unemployable, mostly criminal, mostly violent migrants) to emigrate to the West
grant citizenship to the tens of millions of illegal migrants already living in the West (who will then vote for globalist, lefty, rapemigrant-hugging political parties)
pay for vaccines for all those countries that can't afford to buy them
Naturally, none of the elites in the West will ever suggest that, as it was the corrupt, lying, disease-spreading Chinese who gave us the Wu-Flu in the first place, it should be China that pays for all the damage and destruction the Chinese plague has caused and also it should be China that pays for the vaccines necessary to protect the poor from the Chinese Wu-Flu.
Anyone who watches TV will already have been bombarded by a torrent of ads from our supposed charities with their well-paid, well-pensioned bosses trying to guilt-conscious us into increasing our donations this year to help those affected by Xi's Wu-Flu. But just wait till our politicians also jump on the virtue-signalling bandwagon and force us to shovel ever more billions into the pockets of Third-World kleptocrats supposedly to help the poor whose lives have been devastated by Xi Pingpong's Chinese plague.
And for anyone who hasn't seen it, here's a jolly little Christmas video I made a few years ago about what really happens to our foreign aid: