(Wednesday/Thursday blog)
I'll keep it short and sweet today.
Joe Biden supposedly got around 79,658,000 votes
Donald Trump officially got around 73,675,000 votes.
I write "around" as the final tallies haven't come in yet. But we can still use the numbers we have.
Using these numbers, it would appear that the Democrats got around 5,983,000 more votes than the Republicans.
This means the Democrats got about 52% of the votes cast for either of the two main parties and the Republicans got 48%.
Importing democrat voters?
This is a pretty close result and no guarantee of a Democrat victory in 2024, especially if the Republicans put up a strong candidate like Nikki Haley – former governor of South Carolina and 29th US ambassador to the United Nations – or even Donald Trump.
No problem. The Democrats have a plan. Within the first few days of Biden getting into the White House (if he remembers where it is) he plans to launch legislation to give US citizenship to 10 to 12 million illegal immigrants. And who do you think those illegal immigrants will vote for in 2024? The Republicans who blocked their citizenship? Or the Democrats who gave them an amnesty and full citizenship?
Another 10 to 12 million Democrat voters by 2024 should pretty much ensure Democrats will never lose another election ever again.
Don't believe me? Think I'm a crazed conspiracy theorist?
Well, just watch the first half minute of this interview with Sleepy, Creepy Joe Biden.
Doing a Blair?
Looks like the Democrats are going to "do a Blair" – scatter citizenships like confetti over hordes of Third-World garbage to increase the number of Democrat voters.
Here's a chart from my book SQUANDERED. Blair claimed his government was successfully reducing the number of asylum applications (the dotted line on the chart). What he was really doing was throwing citizenships at potential asylum seekers (the unbroken line on the chart below) before they even had time to ask for asylum thus hugely increasing the number of Labour voters.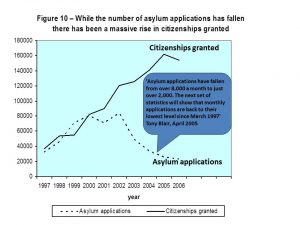 Just watch the first 35 seconds of the video below and you'll see Biden's plans to "do a Blair" by creating another 10 to 12 million Democrat voters: