(weekend blog)
I don't have a story today as I believe I would be contravening the Obscene Publications Act were I to show you some of the wonderful things being done by our friends in the countries where the world's favouritest religion dominates.
Get Covid  – live longer!
But I was slightly amused by the latest statistics from the 'experts' analysing Chinese Plague deaths. It appears that the average age of those dying from Xi-Flu is 82.4 years old. However, the average life expectancy in the UK is 81.15 years old.
Does this mean that getting Covid-19 helps you live longer?
Joe Biden will NEVER become US president
The only other inane thought I had today was that Joe Biden will NEVER become US president. Of course, he might be elected, he might give his inauguration speech, he might even move into the White House. But Biden is old, senile and deteriorating rapidly:
Should the Americans actually be stupid enough to elect Biden, they will actually be electing rabid leftist, West-hating, Izlumophiliac, rapemigrant-loving Kamala Harris and the Squad: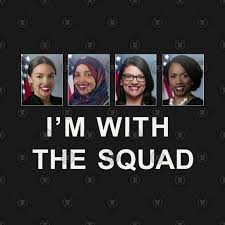 From the day Biden supposedly becomes president, it will actually be Kamala Harris and the Squad deciding and implementing policy – and those policies will include things like:
grovelling to China and Iran
abandoning Israel
granting free healthcare to millions of illegal immigrants
opening the borders to millions more migrants
banning fracking destroying tens of thousands of jobs and the USA's energy independence
implementing the absurd Green New Deal which will cost trillions and bankrupt America
defunding police departments and giving the police's billions to corrupt, self-serving supposed 'community leaders'
implementing new 'hate-speech' and 'hate-thought' laws to protect our wonderfullest religion from any criticism or mockery
use the excuse of 'more diversity' to pack the Supreme Court with Democrat-supporting, big-state-loving, freedom-hating judges
try to change or replace the Electoral College to ensure Democrats never lose another election
and much much more………
Moreover, a Harris administration (with Old Joe as a doddering, impotent figurehead) would also be a disaster for Britain as the Democrats hate the UK and would much rather pander to the non-democratic, bureaucrat-ruled EU.
The mainstream media all know that a vote for Biden is actually a vote for Harris and the Squad. But they choose to not mention this.