(Friday blog)
Putting hyperbole into context?
The politicians and media seem to be hell-bent on frightening us with terrifying claims about imminent disaster from Xi Pingpong's Chinese flu. The politicians do this to browbeat us into obeying every stupid and ineffectual restriction they and their supposed 'scientists' dream up. The media do this to grab our attention and increase their audience and advertising revenues and advance the lousy careers and salaries of arrogant and ignorant self-serving supposed 'journalists'.
To do this they love to make shock/horror claims like – "Covid-19 infections double every 5 to 7 days" and "hospitalisations have shot up by 72%" and "The UK's coronavirus death count has shot up as cases continue to rocket" and "1,000 students at one university test positive for Coronavirus" so on and so forth.
But our rulers and their self-serving mainstream media never put their Coronavirus figures into context.
For example, today around 1,500 people will die in England and Wales. That's just one day's deaths of the 542,000 who die every year. Only about 70 of these deaths – about 4.7% – will have anything to do with the Chinese plague. Thus 95.3% of deaths will be from other causes. When you look at things that way, Xi Pingpong's Chinese plague doesn't look quite so terrifying as our rulers and media like to claim.
How about cancer? This year probably close to 150,000 people in England and Wales will die from cancer – that's around 410 a day. That's almost 6 times as many as will die from the Kung Flu.
Or there's Dementia/Alzheimers – about 70,000 deaths this year or over 190 a day – almost 3 times as many as will die from the Wu-Flu: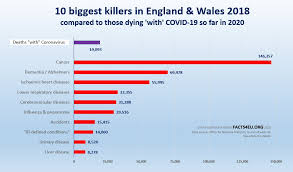 (The chart above is from April so you can disregard the Covid-19 blue line)
Moreover, although our superiors in politics and the media scream about the supposedly 'horrifying' increase in infections, around 80% of those tested positive were asymptomatic. If they hadn't been tested, they would never have known that they even had Xi's Chinese plague.
We know who will be killed by Emperor Xi's plague
The other part of context that our rulers and media often 'forget' to mention is that it is really a very limited group who are actually at risk from Emperor Xi Pingpong's deliberately-spread virus.
If I remember correctly, the median age of those testing positive is about 32 years old. But around 90% of deaths are people over the age of 65, around 80% of deaths are in people over the age of 75 and 91% of deaths are those with serious comorbidities. Given that the average life expectancy in the UK is about 81 and that it will be much lower for those with serious comorbidities, the large majority of those departing this earth with Emperor Xi's help really aren't actually losing that many years of their active lives.
And, of course, only 20% of the 17,000 infected today (3,400) will even have any symptoms of  Xi's plague. The other 13,600 will only know they had the Chinese plague because they were tested.
Politicians always double down on their mistakes
All the above makes it abundantly clear that we should stop allowing ourselves to be cowed into trembling submission. Instead we should protect the elderly and vulnerable and let everyone else carry on with their lives with a bit of social distancing and a bit of hand-washing.
But the problem is that politicians (aided and abetted by our hyperventilating media) have decided that lockdowns are the only way to manage Xi's Chinese plague. So they cannot admit that, now we know more about Xi's plague, we can take a different approach. Our political and media rulers are afraid that a change of course in the light of better knowledge would suggest they got things wrong in the first place. So they have to double down on policies that are no longer relevant or effective in order to save face even if this risks Britain committing economic suicide.
Headscarves protect ladies' modesty?
And here to cheer us up is a picture of a lady from the world's bestest, most progressive religion. It looks like she is at a potato seller's pitch at a market somewhere.
Luckily she's wearing a headscarf to cover her modesty: