(Wednesday/ Thursday blog)
Let us pay tribute to multi-millionaire virtue-signallers
First I'd like to celebrate the multi-millionaire F1 drivers taking the knee and sacrificing so much to signal how much more virtuous they are than us filthy racists: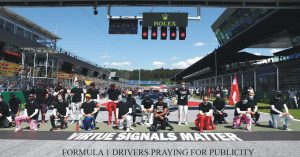 These fearless anti-racism, anti-slavery warriors seem to be led by the (IMHO) most fearless, anti-racism, anti-slavery warrior in human history, a certain Lewis Hamilton, and sheepishly do what their leader, Lewis the Great, commands.
I believe anti-slavery, anti-racism warrior Hamilton gets paid over £50m a year by a company, Mercedes, which owned over 40,000 slaves (many of them Jewish) just 80 years ago. Thousands of Mercedes's slaves died from brutality, over-work and malnutrition. Then, towards the end of WWII, Mercedes tried to have all its surviving slaves gassed to cover up the company's crimes against humanity.
I bet, like me, you're all looking forward to anti-slavery, anti-racism warrior Lewis Hamilton's opinions on Mercedes's abuse and mass murder of its slaves. Or perhaps for Formula 1 drivers white lives and, particularly Jewish lives, don't matter?
Caught with his pants down and his c*ck in his grand-daughter
Imam and Syrian terror commander, identified as Sheikh Mohammed Qasim Al Nasooh was caught on video having sex with his granddaughter, after which he scrambles to put his pants on and tries to deny it. Al Nasouh is an Imam in Deir El Zour, Syria, and a leader of the Ahbab Al Sahaba Islamist brigade:
SYRIAN imam caught in the act in what appears to be a sexual assault on his 13-year-old granddaughter
I hope Imam Sheikh Mohammed Qasim Al Nasooh's goat doesn't find out that Sheikh Mohammed has been having sex with his grand-daughter otherwise I suspect the goat will be very jealous and may refuse to pleasure the Imam in future.
And on the subject of goats
As we're on the subject of goats, here's another life-enhancing video from some Religion of Peacefulness paradise featuring an Arab gentleman caught in the act with his favourite goat:
https://theync.com/middle-eastern-man-gets-caught-with-a-goat.htm