(Monday/Tuesday blog)
Day after day after day the UK mainstream media bombards us with two main stories from the USA:
the appalling infection and death rates from the Chinese Covid-19 plague (though, of course, the UK media never mentions China and always blames Trump and not state and city politicians)
how son of Saint Obama, Joe Biden, is leading Trump in the polls to be the next president. Naturally, no mention is ever made of Biden's increasingly obvious mental decline and how Biden's handlers are desperately trying to find a way of avoiding candidates' debates between Trump and Biden
But the UK media carefully avoids mentioning the virtual civil war that is raging in the Democrat-controlled cities of Seattle, Chicago, Louisville, Portland and New York.
In Seattle, the lefty City Council banned the use of non-lethal crowd control measures. In response, the head of the police department – Carmen Best, a black woman – issued a letter explaining that the police would not be able to protect citizens from anarchist, US-hating rioters pretending to be BLM supporters:
(left click on letter once and then left click again to get a legible version)
Here is Carmen Best – she's hardly a male white supremacist of the kind that the BLM rioters claim run America and oppress Blacks with their supposed 'institutional racism':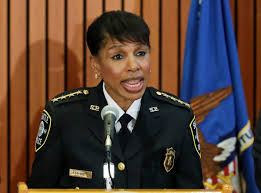 In Chicago, hundreds of protesters called for abolishing ICE (Immigration and Customs Enforcement) and defunding the police, while chants of "Black women matter" and "Latino lives matter" could be heard. Meanwhile, black on black shootings reached record levels with over 500 people, including children and teenagers, being shot in the last four weeks.
Probably the BBC and C4 News 'forgot' to mention this?
In Louisville, tensions almost spilled over into violence as two opposing and heavily armed militia groups faced off within yards of each other downtown. More than 300 members of the Atlanta-based Black militia NFAC, or "Not F**king Around Coalition" came to Louisville demanding justice for 26-year-old Breonna Taylor, an ER technician who was fatally shot by officers in March:
Three people were injured. Fortunately they were all NFAC members accidentally shot by other NFAC members.
The group came close to 50 far-right "Three Percenter" militia members, who were also heavily armed. Police kept the sides apart and tensions eventually dissipated. Both militias had said they wanted to avoid violence.
Probably the BBC and C4 News 'forgot' to mention this?
In Portland, there have now been around 50 days of riots:
This has forced Trump to send in federal police to try to take control of the situation. So far, several federal agents have been injured with three being permanently blinded:
(The burning the American flag looks more like Tehran than a US city)
But instead of trying to support the police and establish law and order, the Democrat mayor Ted Wheeler joined the rioters showing where his loyalties lay: "I want to thank the thousands of you who have come out to oppose the Trump administration's occupation of this city," Wheeler told people gathered downtown near the federal courthouse, according to the Associated Press. "The reason this is important is it is not just happening in Portland … we're on the front line here in Portland." Meanwhile the Portland-based Pacific Northwest (PNW) Youth Liberation Front – which describes itself as a "decentralized network of autonomous youth collectives dedicated to direct action towards total liberation," has issued a call to action for other Antifa cells across the country on Saturday – calling it "J25" (July 25).
Probably the BBC and C4 News 'forgot' to mention this?
New York: And here are some really woke New Yorkers rioting non-violently this weekend supposedly in support of the Portland rioters. New York Democrat Mayor Bill De Blasio blamed the riots on the police failing to act just weeks after De Blasio cut the budget for the New York Police Department (NYPD) by around $1bn and disbanded the NYPD plain-clothes anti-gun-crime unit. Incidentally, there has been more than a doubling in shootings in New York since the unit was disbanded.
Probably the BBC and C4 News 'forgot' to mention this?
The polls all point to a massive win for the increasingly mentally-unhinged, senile Biden in November. But faced with Democrat-supported chaos, murder and mayhem or Trump's law and order, maybe many Americans will prefer law and order to Democrat-encouraged violence, anarchy and civil war?