(weekend blog)
It's almost OK to murder Swedes if you're a multi-cultural enricher
Sudanese/Egyptian Suleman Suleman seems to have been doing quite a bit of multi-cultural enriching since he arrived in Sweden.
In 2007 he was convicted for the first time – for car theft. Then a long series of crimes followed – 23 in total. Several crimes involved violence,  for example, when he robbed and threatened to kill two young Swedes in Gothenburg in 2011.
On another occasion the same year, he and his friends assaulted a Swedish youth on the commuter train from Alingsås to Gothenburg. The brawl started when Suleman urinated on the floor in the train. The youth confronted him about it, and was severely beaten – with among other things a bottle to his head. These 23 crimes are just the crimes we know about. There are probably plenty of other violent incidents and possibly rapes that the dopey Swedish police haven't detected.
But despite his continued crimes, Suleman has never ended up in prison. In several cases, the courts have judged that what was required instead was "an ambitious treatment" – which basically means probation with a special psychiatric and social-orientated treatment plan.
But Suleman Suleman's "ambitious treatment" doesn't seem to have worked all that well. He has finally been sent to prison for murdering a Swedish student who wouldn't give him drugs free as our friend Suleman didn't have any money to pay for the drugs. Suleman stabbed the student 13 times and then cut his throat: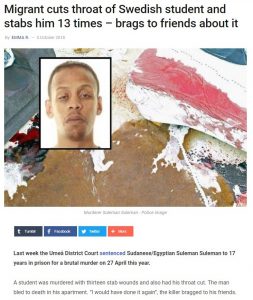 But no problem, Swedish prisons are like holiday camps and anyway Suleman Suleman will be out in 11 years or less. Then, of course, he'll be allowed to remain in Sweden as to throw him out would breach his human rights. So he can carry on enriching Sweden with his presence for the rest of his life.
In Germany, never bash a rapefugee
Here's one lovely story of successful integration from Germany. At the Munich Hackerbrücke train station, a 28-year-old migrant from Eritrea grabbed a German woman under her skirt on Tuesday. When her father saw the sexual assault, he punched the African man in the face to make him stop.
An employee of the German railway company Deutsche Bahn, witnessed the incident and alerted federal police. The German police decided to file two charges: One against the migrant for sexual assault and one against the father for causing bodily harm. Yup, in Germany it's now against the law to try to protect your own daughter from being sexually assaulted by one of Adolf Merkel's migrant masses.
Where to get the truth? The BBC? Or Russian TV?
This hasn't been a great week for Vladimir "Vlad the Impaler" Putin. Several members of the Moscow Church Tower Appreciation Society were exposed as being GRU agents trying to bug the HQ of the Organisation for the Prevention of Chemical Weapons. I suspect that when Vlad the Impaler has finished debriefing his hapless agents, they'll be joining their Salisbury-cathedral-admiring colleagues appreciating church towers in Siberia for the rest of their lives.
But here's a story from Russian TV (RT) which tells us quite a bit about how Germany has been taken over by West-loathing, leftist, Izlumophiliac stooges.
During a Poetry Slam in Speyer, Ida-Marie Müller a 14-year-old girl and daughter of an Alternative for Germany (AfD) politician, dared to ridicule the German welcome culture of the left and denounce Muslim refugee rapists all in one. Her poem included the lines "From far away, the man, with a mobile phone but no passport, got to Europe with the help of human traffickers. He arrived in our hallowed German land, and because he couldn't get a woman, he helped himself to one with a knife."
Not only did she receive the most applause for her poem but would have won the competition because the winner was determined this way.
The left-wing organisers couldn't have that, of course, and simply disqualified her, the obvious winner. She was barred from the award ceremony and another competitor was awarded first prize instead because a 14-year-old girl denouncing rape by people claiming to be asylum seekers is considered "Nazi propaganda."
One of the city officials accused her of "Spiritual arson and fuelling fears". Even the Mayor Monika Kabs(CDU) had to share her two cents on the event and accused Müller of using the Poetry Slam as a platform for the AfD.
Facebook banned Benajmin Haupt the District Association Chairman of the AfD for posting video of her in the competition. It didn't stop there though. Their house was defaced by vandals spray-painting "Nazi" and "F*ck AfD" on the walls.
Our 'truth-loving' BBC reported the story using the more than slightly provocative headline: "Girl's racist poem sparks row in southwestern Germany".
Russian TV (RT) gave a much more balanced report of the story: