It's beyond belief!
The British press is hyping up a coming confrontation with Russia. Crooked Hillary Clinton is blaming Russia for supporting Trump and for interfering in the US election. The EU (stop laughing you in the back) is sending troops (I said 'stop laughing') to the border with Russia to frighten off ('stop laughing!') a supposed Russian invasion of somewhere in Eastern Europe.
But worst of all, the US is trying to instigate conflict with Russia by causing an incident in the air over Syria when Syria's President Assad invited the Russians to help him against the Jihadis while nobody asked the Americans to intervene.
So, here's part of a blog I wrote just over two years ago:
Here are some Russians having a bit of fun: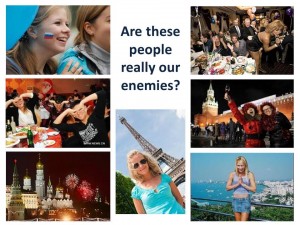 They don't look like they want to start World War III and kill us all.
Here are some other people having some fun: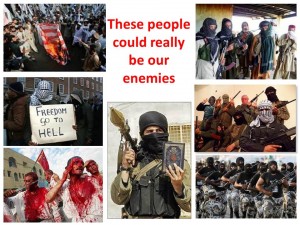 They really do look like they hate us. They would like to start World War III. And they would like to kill us all.
And most absurd of all, our rulers want to start a war with Russia to supposedly protect precisely the crazy, inbred, moronic, backward, illiterate, unemployable, violent, rapist, murderous scum who hate us and would willingly give up their own worthless subhuman lives to kill as many of us as they can.
Why can't our useless leaders realise that, instead of demonising the Russians, we should be working with them against our shared enemy (radical) *sl*m? It's not complicated.
How the crazies must be laughing as countries in the civilised West start a fight with Russia because the West's *sl*mophiliac rulers are afraid to admit who the real enemy is as that would lead to civil war throughout Europe and America. Our rulers would rather a war with Russia than a war between their native populations and the invading armies of the Religion of Peace.
As for the  supposed 'slaughter in Aleppo' – this would stop immediately if the Western-backed, bearded, Jihadist lunatics fighting Assad were to withdraw from what remains of the city and go off to kill people in the name of their God somewhere else. They leave – there is peace. It's that simple. But that's not a message the *sl*mophiliac Western leaders and mainstream media want to give. So, we continue to support those who will kill us after they've got tired of killing their own co-religionists.
Oh, and here's a message from my Uncle Vladimir: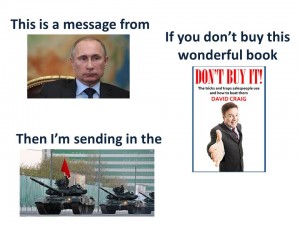 Sorry. I didn't mean it. I was just joking!
Oh no! I've claimed that Putin has threatened anyone who won't buy my book.
Duck!
It seems like I may have just given our pathetic, lying, sabre-rattling rulers an excuse to start World War III